The spirit of resistance is strong with REIN. The Stockholm-based producer and songstress has fought to strike her own path in music, despite attempts to pigeon-hole her style. Like Björk, REIN has approached her art with a vision that she controls, and has grown with each new release.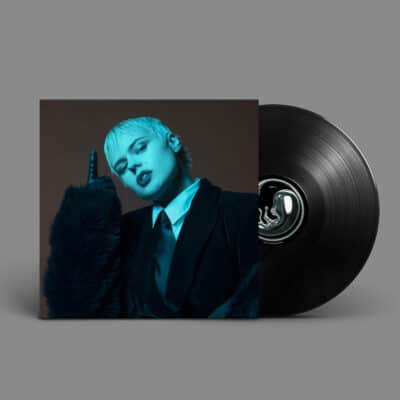 REIN spent part of 2022 criss-crossing the United States with Front Line Assembly, and she has dates coming up with Front 242 and Nitzer Ebb in Sweden, but her electro/avant-pop style has never been confined to her EBM roots. Yes, she can construct beats from iron girders and hammer out bass lines with the ferocity of a Viking falling on a Saxon monastery; but, on Reincarnated, she showed a touch that was sensitive and tuneful enough for radio.
REIN's new album, God Is a Woman, represents a new step in the evolution of her sound; levelling-up with influences from Robyn, Missy Elliot, Aaliyah, Eurythmics, The Prodigy, Depeche Mode, Christine and the Queens, Fever Ray, and Kraftwerk. With themes referencing biblical myths, Lennart Nilsson in utero photographs, and life in dystopia, REIN has collected her new material under a banner of empowerment:
I have always been fascinated by how powerful women are, that we can create life inside of our bodies. I am also fascinated by history and religion. Like why have we, as women, been so oppressed for such a long time
and still is to this day? I still can't understand why. We should be the leaders of this world
The first track released from the album, "How's It Gonna Be?", is characteristically personal:
It's about the experience of being together with a person that is hot and cold, and the conversations you have with yourself. You know that the relationship is going to end someday but you are still hopeful. I would also say 'How's It Gonna Be?' is the twin of my older song 'Bruises', people like it when I sing soft and from the heart.
With rhythms inspired by Computer World and a lifting vocal line, the result is a cross-over that will work on your FM dial as easily as it does live. Full of hooks and stabs, and with long-term collaborator Djedjotronic joining proceedings, it is a prime candidate for the dancefloor.
The full album drops on 30 November 2023. It comes in two limited editions of black or pink vinyl, which can be ordered from REIN's Bandcamp.
REIN has four confirmed dates around the new album and the coming single tracks:
2 November 2023: "Rockefeller" Oslo with Front 242 + Nitzer Ebb
3 November 2023: "Trädgårn" Gothenburg with Front 242 + Nitzer Ebb
25 November 2023: "Slaktkyrkan" FutureRetro Weekender Stockholm
9 December 2023: "Club Meet Factory" Prague