Compared to the privileged founders of Kraftwerk, who were able to launch their project with family money, Robert Görl had it tough. Raised in an orphanage in Munich, he was attracted to punk and became one of the outsiders hanging around Düsseldorf's Ratinger Hof. There, he connected with fellow spirit, Gabi Delgado, and the duo became the core of Deutsch-Amerikanische Freundschaft, one of the leading Neue Deutsche Welle acts. A formally trained jazz drummer, Görl brought a sense of rhythm and structure to the band, which was to spin off acts like Pyrolator and Liaisons Dangereuses.
The first album by DAF, Ein Produkt der Deutsch-Amerikanische Freundschaft, was an experimental, improvised collection of instrumental tracks. It led to a trip to London, which saw the group of German punks sleeping on the floor of Daniel Miller's mother's middle class house in Temple Fortune, London. The next step was an album, Die Kleinen und die Bosen, which was the first full-length release for Miller's Mute Records label. Given the catalogue number, STUMM1 ('stumm' being the German word for 'mute'), it featured a live side recorded in London and a studio side produced by Conny Plank. Plank's son tells the story that Görl, Delgado and Miller went to Conny's Studio in Germany to finalise the material. Miller had booked three days of studio time. On the first day, Plank cooked and chatted with Görl and Delgado. On the second day, the same thing happened. Miller was watching his budget being eaten up – literally. On the third day, as Miller's anxiety was peaking, the Germans went into the studio and did the entire session in one go. This was the beginning of a key relationship between Plank and DAF.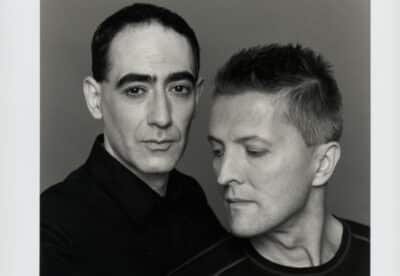 It also led to the reorganisation of DAF as the duo of Görl and Delgado. After Die Kleinen…, they clinched a contract with Virgin Records and forged a new, minimal sound. The rest of the band were out, and Miller was told only after the deal was done. It was a messy affair, but it led to a series of albums that set new templates for European electronic music. With only a sequencer, basic synths, a drum kit, and Delgado's voice, DAF crafted a distinctive sound with songs that cut open the belly of punk. Görl's drums and electronics steered a path between icy anthems and intimate tracks, avoiding the traps of both 4/4 dance music and pub rock, while Delgado purred and shouted slogans and sensual promises with equal intensity.
The new arrangement was successful, but it didn't last. It couldn't have lasted. After three albums in two years, all produced in Conny's Studio, DAF pulled the plug. The passion that kept the music interesting also led to collisions that blew the partnership apart. They regrouped in 1986 for a dance-oriented album, 1st Step to Heaven, but the tensions kept resurfacing. Over the years, the fans pulled DAF back into the studio and onto the stage, but keeping the band together was a recurring challenge.
In the gaps between DAF projects, Görl continued to produce exceptional music. In 1983, after the first DAF split, Görl returned to Mute Records with the single, "Mit Dir." That led to a further single and album produced by Mike Hedges, including a collaboration with Annie Lennox of Eurythmics. Görl had provided drums for the Eurythmics' 1981 single, "Belinda," which appeared on the Plank-produced album, In the Garden, and kept close to Lennox. Although critically well received, Night Full of Tension failed to ignite Görl's solo career in the UK.
After the second DAF split, in 1987, Görl went off to study acting in New York; quickly finding himself expelled for having the wrong visa. On return to West Germany, he was picked up by the army, which wanted to know why he hadn't completed his national service. Faced with the choice of joining the Bundeswehr or making music, Görl split for Paris, where he recorded demos in a suburban flat. He took them to London, where Daniel Miller recommended that he connect with the Canadian prog musician, Dee Long, who had set up as a Fairlight operator at George Martin's AIR Studios. Long had previously worked with Rational Youth on the Heredity album and with Images in Vogue, so had some experience working with the current technology. Before they could properly record the material that Görl had developed in Paris, however, he was involved in a horrific car accident. The drummer began 1989 with broken bones and soft tissue injuries that prevented further work and would impact him for the rest of his career.
The result was a hiatus from music that lasted until 1992. In that time, Görl became a monk at a Buddhist monastery in Thailand; a role he traded in for techno production after returning to a reunited Germany and experiencing Berlin's Love Parade. His love for Buddhist spirituality remained, but so did his drive to make music as DAF. In 2003, he and Delgado released Fünfzehn neue D.A.F.-Lieder, updating the DAF sound while demonstrating their continuing relevance. More splits followed, but a way forward was always found. In 2021, following the death of Delgado, Görl released the final DAF album, Nur noch einer, drawn from archive material and ideas the duo had been working on together. It was a kind of closure, but not the end of the journey: Görl has recently continued to perform as DAF, and there are other sketches in the vaults that could still be worked on. DAF lives…
---
10. DAF – Kebabträume
The first DAF single on Mute, "Kebabträume" is an electro-punk treatment of the controversy about Turkish immigration to West Germany. It deals with the division of Berlin and cold war spycraft, reflecting the anxieties of the times. It was re-recorded by the Görl-Delgado version of DAF for their third Virgin album, Für Immer, with cleaner production and a more minimal style, but the original 7″ in the Simone Grant sleeve remains the definitive version.
---
9. Robert Rental – Double Heart
Görl's skills as a drummer have been called upon a number of times for other acts. Rental had worked with Daniel Miller on a tour of the UK and France, which had been documented on a one-sided album for Rough Trade. It was natural, therefore, that he would release his second single on Mute. It was recorded at Blackwing Studios, where Miller was working on his Silicon Teens material, with Thomas Leer and Görl assisting.
---
8. DAF – Ich und die Wirklichkeit
The version of DAF that went to Virgin was one that Mute would have loved to have bid for. DAF's first album for Richard Branson's label, Alles ist Gut, was to become a classic and a crossover hit in Germany. With the instrumentation reduced to drums and sequenced synths, the duo was able to reinvent electronic music entirely. The live version of this track offers a view of the band's strong punk sensibilities; rejecting both the hippy ambience of Tangerine Dream and the angular pop of the Anglo-American New Wave.
---
7. DAF – The Gun
The return of DAF in 1987 was at the height of Stock Aitken Waterman's powers. Hi-NRG was all over the dancefloor, and the band was well positioned to take a run at commercial success. They brought with them an early track – "Absolute Body Control" – and wrote new material, including this funky 12″ single. Some saw this as a sell-out, but DAF's club campaign yielded a string of excellent singles and an album that added polish to their sound.
---
6. Robert Görl – Dominatrix Supreme
Görl's return to Germany led to a period of techno production that is sometimes overlooked in his work, but the material is of very high quality. DAF's sound was one of the major influences on the development of dance music, and it is only natural that Görl would have turned his hand to the music of the clubs.
---
5. Client with Robert Görl – Der Mussolini
In 2006, Görl performed live with Client, the band fronted by Sarah Blackwood and championed by Andy Fletcher of Depeche Mode. At the end of their set, they had a go at this classic dancefloor number by DAF. In 2007, Görl's remix of the band's Adam Ant-written song, "Zerox Machine," was released.
---
4. Robert Görl – Part 1 (Vince Clarke Remix)
The accident that prevented Görl from taking forward his second solo album with Dee Long was very serious. He spent six months in hospital, was implanted with steel pins, and had to learn to walk again. Completely defeated by chance, he took himself away to a monastery and gave up music entirely. The discovery of a cassette with his demos led to the release of an album by Grönland Records in 2018. Vince Clarke provided a remix of this track; hinting at the way the material could have taken shape if Görl had worked on it in London as planned.
---
3. FLA – Eye on You
Canada's Front Line Assembly called on Görl to contribute to this track from 2019. As Bill Leeb told The Electricity Club: "We met at M'era Luna and another festival. We all hung out backstage, and I kind of hunted him down. One time, [DAF] played right after us and we were hanging out backstage, waiting to change, and I just started talking to him. I was such a huge fan, and the first couple of DAF albums were groundbreaking – kind of like the whole Mute and DEPECHE MODE world. We just started chatting in German, and he's a super nice guy, and next thing you know we were doing the track."
---
2. DAF – Ich denk an dich
Released in the wake of Delgado's untimely and unexpected death, "Ich denk an dich" [EN: "I Think of You"] is Görl's tribute to his musical partner. Their relationship was sometimes difficult, but it was also productive. Some of Görl's most significant material is inseparable from Delgado's contributions. With the last DAF album, he had an opportunity to express this using archival recordings and the sketches made with Delgado.
---
1. Robert Görl – Mit Dir
Released in the spring of 1983, "Mit Dir" finds Görl singing a love song over a minimal, icy-cold set of synth sounds. One of the most beautiful songs released on Mute, it is a masterpiece that shows off Görl's expressive range and control of minimalist instrumentation.