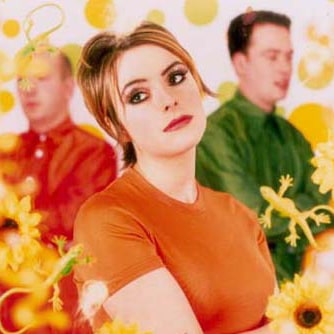 Sarah Blackwood might not be an angel, but her voice is among the most seraphic in British pop. As the most visible member of Dubstar, the dream-pop band that gave us "Stars" and a remake of Billy Bragg's "St. Swithin's Day," Blackwood was one of the most recognisable faces of the 90s.
A decade on, styled as an SAS air hostess reimagined by Wallpaper magazine, she became the voice of Client. While Dubstar always seemed free-spirited – their first album was banned for its depiction of a fuzzy pencil case in a manner that Woolworths found objectionable – Client's presentation was more controlled: members were designated by letters, had their faces cropped from releases, and aimed for a prim and proper look (never mind that their PR material always seemed to make them look like dominatrices styled by Muji).
This dialectic of pop imagery was finally resolved in 2011, when Blackwood left Client to focus on real life, freeing her to engage with artists as disparate as Fotonovela and Die Krupps. Throughout, her distinctive voice, gently inflected with an accent that signals her Yorkshire roots, has carried melodies with the kind of sensuous English beauty that would make a choirmaster blush.
Born singing, Blackwood always knew what she wanted to do. After leaving school in Halifax, Blackwood signed up for art college in Newcastle with the aim of finding a band to join. That didn't work out, but through her then-boyfriend she connected with Steve Hillier and Chris Wilkie, who were performing as The Joans. Replacing Hillier as vocalist, the band became Dubstar, and in 1995 they released their first album, Disgraceful. Produced by Stephen Hague, whose credits included New Order and Pet Shop Boys, the album was finely-crafted, off-center pop: weekends listening to On-U Sound compilations might have influenced the bass lines, but the guitars and strings owed as much of a debt to Cocteau Twins and XTC. Blackwood's own contribution was less Partridge/Moulding than Fältskog/Lyngstad: there is an ABBA-esque element to the vocals that Hague's production brings to the fore.
Dubstar lasted for two more albums, which both followed Disgraceful into the UK Top 40. Their second effort, Goodbye, was also helmed by Hague, and it yielded strong songs like "No More Talk," "I Will Be Your Girlfriend" and "Cathedral Park," which built on the original template. The turn of the century gave us Make It Better, on which the sound became more emphatic, darker and guitar-driven: "Take It" was originally intended for Gary Numan (who did collaborate with Dubstar on "Redirected Mail" at about the same time); and Led Zeppelin fan Wilkie had been waiting for two albums for his chance to rock out a little. Although rumours of another Dubstar record were floated from time to time, the band's store of material was as exhausted as its members were of working together. The "Swansong" on Make It Better really was one, as Dubstar disbanded in the album's wake.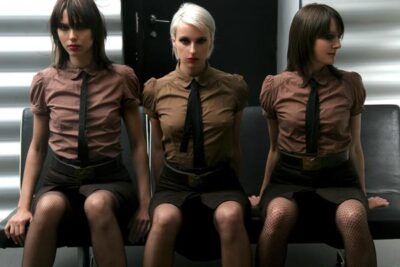 Word got out that Blackwood was available for other assignments, and in 2002 Kate Holmes invited her to join Technique, which incorporated Blackwood as singer and changed its name to Client. Holmes, who had played with Frazier Chorus, was an enormous New Order and Depeche Mode fan, and she quickly hit it off with the pop-loving Blackwood. Adopting the pseudonyms Client:A (for Holmes) and Client:B (for Blackwood), Client were adopted by Andy Fletcher of Depeche Mode, who released the band's recordings through his Toast Hawaii label. Their first show was at Tobbe Lander's 2003 Swedish Alternative Music Awards in Gothenburg, Sweden, and a rush of dates across Europe followed. Fletcher became a familiar site at their shows, DJ-ing as Client:F, which permanently cemented their link with Devotees across the continent.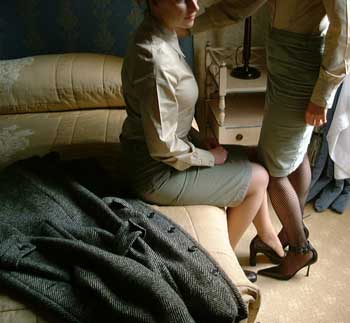 The retro-futurist style of Client's music won them many fans, but commercial success outside of their core audience proved elusive. Their first album, 2003's Client, was scored only 3/10 by the Springsteen-boosting magazine, Uncut, while lauded as "bloody good stuff" by its rival, DJ. Being enigmatic and having a love for early Human League material might have been cool, but it wasn't a way to chart success in the UK after the turn of the century. Their second studio album, City, included collaborations with members of The Libertines (then managed by Holmes' husband, Alan McGee) and Martin Gore, but it didn't raise Uncut's opinion, even though it contained impressive material, such as the singles "Radio" and "Don't Call Me Baby."
By 2006, things started to get complicated for Client. The band's patron and label boss, Fletcher, was consumed by the demands of Depeche Mode's own activity, while sales slumped along with the rest of the recorded music market. The electroclash scene, which had provided some support for Client's style, had long since peaked. A change of label preceded the release of Heartland, Client's third album, for which they assembled a team including Youth, Adam Ant, Stephen Hague, Simon Tong (The Verve) and Tim Burgess (The Charlatans). Youth, who co-produced the album, put his finger on a key point, calling Client "a dance band that nobody could dance to." He set out to change that, building up the sound for Heartland and its successor, Command, with bass lines and hooks given pride of place.
The change of gear didn't bring Client closer to chart success, and in the end the members of Client started to get on each other's nerves. The project stopped for a while. When it started up again, it was without Blackwood, who had endured enough band politics to last a lifetime. With time, she turned towards a focus on her physical and spiritual wellness, while working with other artists on their own projects. In 2007, Blackwood had worked with Die Krupps on a cover of Visage's "The Anvil," while in 2010 William Orbit (producer of Madonna and Britney Spears, among others) released a version of his song, "White Night," with Blackwood on vocals. Fotonovela's 2013 album, A Ton of Love, featured Blackwood on two tracks.
The essential quality of all of these contributions was Blackwood's evergreen vocal style, which remained untainted despite two decades of performance, clubbing, hard living and professional heartbreak. The tone of her voice today remains as compelling as it was at the time of this interview and short feature:
---
10. Dubstar – Not So Manic Now
The release of "Not So Manic Now" in 1996 took Dubstar into the UK Top 20 for the first time, reinvigorating interest in the band's first album (which had come out several months earlier) and precipitating the re-release of "Stars" as a single. A cover of a song by the rather more obscure band, Brick Supply, you would never guess from Blackwood's delivery that it's the first-person account of an assault on a pensioner in a tower block.
---
9. Dubstar – I Will Be Your Girlfriend
Although the title initially must have looked like a promise to spotty students up and down the country, the lyrics of Dubstar's eighth UK Top 40 single make it clear that there is a sting in the tail:
I'm the gum on your shoes
The prostitute who rings your family
I'll take your breath away
You crossed my path and you'll pay
And both your friends will laugh
Lifted from Goodbye, Dubstar's second album, Blackwood's taunting vocals sit over a house groove that perhaps owes something to Happy Monday's "Wrote for Luck."
---
8. Client – Radio
"There's no music on my radio," Blackwood sang back in 2004. Certainly, it was difficult to find anything back then on the radio dial that was worth tuning into: UK radio was a series of drum-and-bass pirate stations with DJs interrupting every ten seconds for neighbourhood shout-outs, while the commercial channels used up the airwaves with Britney, Beyonce and Eminem. That might not have been Client's main complaint, but Blackwood's plaintive delivery reminds us why the delivery of a DAB radio that Christmas was so unwelcome.
---
7. Client – Heartland
Co-produced by Joe Wilson of Sneaker Pimps, the title track from Client's third album moves away from the minimalist aesthetic of Client's earlier work, while retaining their characteristic sense of angst. This is music to smoke behind the shopping mall to:
Deep down and lonely
Long place from home
I was always a loner,
I was never alone.
---
6. Soman – Blue Monday
It is not without cause that Sarah Blackwood has been called "the female Bernard Sumner." It's not that she gets prickly about Peter Hook or refuses to play her old stuff, so comparisons must arise from her soft, Northern vocals. This cover of "Blue Monday" by a German band isn't the best from the instrumental angle, but the real point of interest is to hear Blackwood singing a classic New Order track. A duet with Sumner would be a logical next step.
---
5. William Orbit – White Night
William Orbit is a particular kind of genius. Best known for producing Madonna, Blur, Britney and others, Orbit's own output is both exceptional and experimental. For his 2009 album, My Oracle Lives Uptown, Orbit recorded this track with Blackwood, but the version that finally appeared featured long-term collaborator Laurie Mayer, with whom he had originally recorded the song for Torch Song back in 1986. The Blackwood version generated a lot of fan interest, so Orbit released it on his Web site as a free download. As we said – genius!
---
4. Die Krupps – Der Amboss
That Blackwood should become involved in a project of Die Krupps, Jürgen Engler and Ralf Dörper's EBM band, might be surprising, but Dörper is no stranger to the poppier end of the scene, having been a key figure in Propaganda. When Die Krupps prepared to cover Visage's "The Anvil," he immediately thought of Blackwood, then in her Client:B role, to lend a hand. The result was a meeting of leather, sweat and beauty like a Helmut Newton picture made into sound.
Blackwood took to the stage with Die Krupps, when they visited London in 2008, but such was her anonymity as Client:B that the maker of this video had to ask who she was:
---
3. Fotonovela – Justice
The Greek electro duo, Fotonovela, got ambitious when inviting vocalists to help out with their 2013 album, A Ton of Love. James New from Mirrors, fellow Athenians Marsheaux, Kid Moxie and Blackwood were among those asked to collaborate. Blackwood contributed to two tracks, "Justice" and "Beautiful." Featured here is "Justice," an energetic, uplifting track with aggressive lyrics. Is it about anyone Blackwood knows? We can't say, but you'll be roused to action.
---
2. Client B – Acoustic at The Club Bar & Dining
In 2008, still presenting herself as Client B, Blackwood recorded and released an album of live recordings, with acoustic settings of Dubstar and Client songs, together with covers of tracks by New Order and The Smiths. The link below is to the album, which was originally released in parts through the Client Web site. It's a RAR package, so you will need to unzip it first.
---
1. Dubstar – Stars
The track for which Dubstar is best known just dented the UK Top 40 when it was released in 2005; but, after momentum built behind the band in early 2006, the record company re-issued it and the single climbed to 15th position. New mixes by Motiv-8 and Way Out West led the way to the dancefloor, and Blackwood's heavenly vocal lines floated over ravers in fields and factories alike.