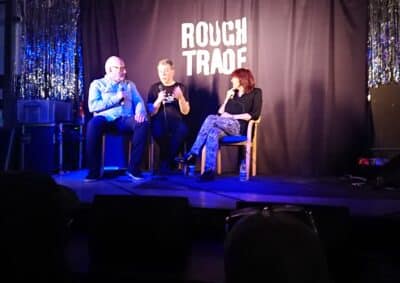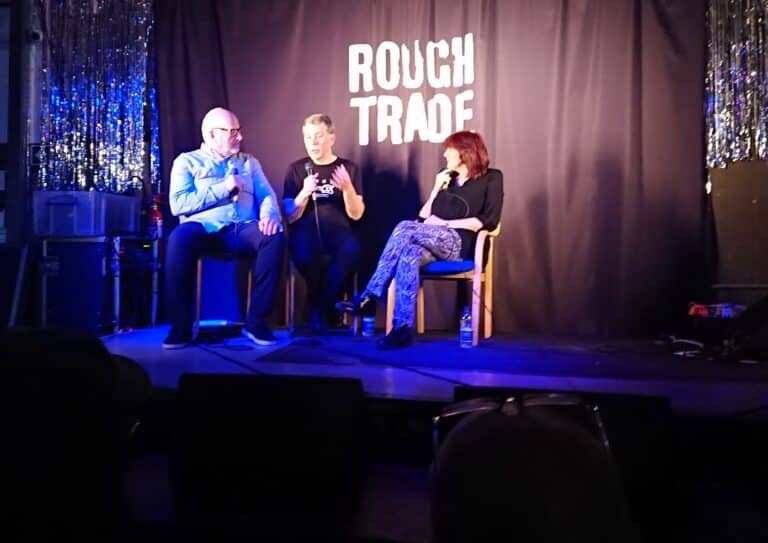 November opened with Chris Carter taking to the stage at Rough Trade in London to demonstrate the new TG-ONE synth module from Tiptop Audio. Filled to the brim with samples from Throbbing Gristle's recordings, as selected and processed by Carter, the unit allowed him to generate a show in the TG style. Due to the random looping feature of the module, the show can never be reproduced in the same form.
The occasion of the performance was a signing event for the 40th anniversary reissue of TG's classic album, Second Annual Report. It also provided an opportunity for Carter and his partner, Cosey Fanni Tutti, to reminisce about their careers in music. They were joined on stage by Daniel Miller, whose Mute label is releasing Carter's forthcoming solo album, for a relaxed conversation about modulars and the early days of industrial music.
The relationship between Miller and Throbbing Gristle goes back a long way – further, actually, than Miller recalled. His memory of chaos at TG shows, including one featuring Robert Rental & The Normal, was vivid, but Carter surprised Miller with an anecdote about visiting Mute's original base in Temple Fortune when "TVOD/Warm Leatherette" was being recorded. "I met your mum!"
As they warmed up, the anecdotes started to flow. It came out that Miller met Robert Rental at a TG concert in July of 1978 where chairs were thrown in a Situationist cause. Also that Rental's girlfriend worked with Thomas Leer's at the Virgin store on Oxford Street. Miller recalled seeing a Peter Gabriel quote on a TG album there to the effect that it was the best thing ever ("I wasn't sure if it was a piss-take or not!"). This was news to Tutti and Carter, but the dots were connected through TG member Peter "Sleazy" Christopherson's work for Gabriel as a visual artist.
Further connections arose from events at the Cryptic One Club, which was organised by the promoters, Final Solution. After TG played a notorious event –  which featured Tina Turner's doormen, who had been recruited as celebrity heavies – Miller and Robert Rental were separately asked to play at the club. Neither wanted to perform separately, so they teamed up as Robert Rental & The Normal, sharing a bill with TG.
The duo joined the Rough Trade tour with Stiff Little Fingers, recording a one-sided live LP for Rough Trade's US label. There was a TG connection there, too: Carter had built a Gristleizer effects unit for Rental, which he used to process the sound of his Wasp synth.
The discussion moved on to modular kit. Carter explained that, in 1999, he had a mid-life crisis and sold off his old analogue and modular equipment; but, within a year, he was rebuilding his collection. Carter's latest solo album, which comes out in March, has been made with his rebuilt modular collection. It was also revealed that a new version of the Gristleizer, designed for Eurorack systems, is on its way.
For fans of industrial and electronic music, the evening was very special. Carter's demonstration and the open conversation between three legends showed that the DIY post-punk spirit that motivated them at the end of the 1970s is still vital today. It also put their imprimatur on the burgeoning modular scene. TG might be finished as a band, but its subversive and animating influence is undiminished, even after four decades.