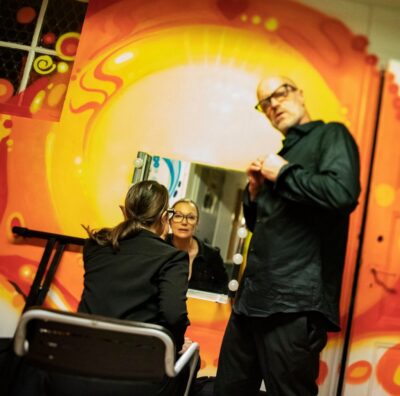 It is the 40th anniversary of Page this year. From their beginnings as a Swedish version of Silicon Teens brought to life, to a mature poptronica duo keeping the spirit of futurist electronics alive, they have a scrapbook filled with enduring songs of love and lust.
With Under mitt skinn [EN: Under My Skin], the duo of Eddie Bengtsson and Marina Schiptjenko reach their anniversary in top form. The title track has touches of Ultravox, John Foxx and Tubeway Army, but is unmistakably Page. Bengtsson cleared out his synth collection some years ago, in order to concentrate on Moog hardware, and the combination of his impeccable pop sensibility and filtered saw waves yields an instant classic.
There is a reference to Visage in "Ta det som en man" [EN: "Take It Like a Man"]. The song opens with phrase in the style of "The Damned Don't Cry," which positions the track in 1982. The bass bounces with a nod to "Fade to Grey". The British sound was always essential to the Page aesthetic, but it washed up on the shores of the Baltic ready for interpretation in the shadow of ABBA. Page warmed up the cold feeling of Synth Britannia and sung in their own language, and it works brilliantly here.
The EP also features bonus tracks. Most of them are new versions of Page songs from friends and collaborators: Svein Welde contributes a remix of "Blöder du" from the last album, Fakta för alla; Pierre provides a jazz-funk remix of "Ljuden i ditt rum"; Side Order lay down a version of "Som ett skal" from Hemma; and Independent State revisit the single, "Lagger av," together with John Westlund and Den Där Killen. A Page cover of "Tracks," the classic Gary Numan song, rounds things out.
Under mitt skinn is set for release on 12 June 2020, but pre-orders are open now at Hot Stuff. We grabbed Eddie Bengtsson to ask a few questions about the new EP, ahead of its release.
---
Early Gary Numan and Ultravox have emerged as two of your biggest influences. What draws you back to them?
It's the quality of the songs and the sound. It is a perfect mixture of electric and electronic instruments, and real drums. I didn't appreciate them as much as I should have when they first came around. I did buy the albums, of course, but never got too much into them. That's something that I am very much thankful for today. Today, those albums are totally fresh and extremely cool.
Visage gets referenced on this EP. What impact did they have on you?
None, really. I always saw them as Ultravox's offspring. Three really good songs and one OK track – all on the first album. Then one song on the follow-up. It was a cool mix of Ultravox, Magazine and The Skids, in a way.
Irritation is the core theme of the lyrics on this EP. What gets under your skin these days?
Most things gets under my skin these days – big things and small things. The trouble is that there isn't much to do about it in most cases. You stand there and watch it unfold. There is a big difference between what I see and what people tell me I see.
You are committed to Moog equipment these days. How does it perform over Korg or Yamaha gear for you?
Moog is still a classic brand, that, for me, stands for quality, aesthetics, and good sounds. Korg and Yamaha feel a bit like toy companies: they are making synthesizer-toys and DJ-crap. More recently, it seems that Moog is also aiming in that direction. That's sad, but I do understand them – there is money to be made there. Despite that, I'm going to be a Moog-man for the rest of my life. I know those synths, totally. I know how to make them sound the way I want, and I don't need any other synthesizers for that.
The COVID crisis is likely to impact live shows for some time. How do you see things changing?
Live-stream is never, of course, going to be an alternative to live. Crises come and go, and I'm sure this will, too. I think there will be a great "thirst" for live shows when all this is over. I also, in a non-musical way, think there is going to be a big change in how we, the people, see things and act; at least, I hope there will.