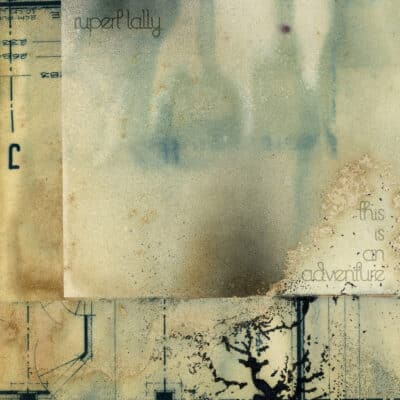 Over the years, Switzerland-based electronic musician and sound designer Rupert Lally has released a slew of albums covering everything from ambient sparseness to glitch to fantasy soundtracks; his score for Ballard's High Rise giving Clint Mansell's music for the film a run for its money.
For his latest album, Lally has embraced his roots in jazz more comprehensively; fusing his elaborate, carefully-wrought electronic compositions with an orderly looseness that working with synths and digital tools too often limits. On the evidence of the fourteen tracks on This Is An Adventure, it's territory that he is extremely well-adapted to, making this one of his most compelling and sonically diverse albums to date.
In addition to his Bandcamp releases, Lally maintains a film blog, and that gives him an insider's knowledge of what makes a good, evocative score. That means a track like the restless "Reindeer Flotilla" might have been recorded to accompany a desolate post-apocalyptic scene, while "Where Are You Going With This" features a futuristic–but not exactly optimistic–momentum, a lot like careering through the wrecked Earth of Ridley Scott's Blade Runner and coming to terms with being among the last humans opting to stick it out on the home planet. The beatific "Siren Song" is plaintive and loaded with contemplation, driven gently forward on expressive, wandering guitar enveloped by sultry late-night echo and unobtrusive synths.
The finest moments on This Is An Adventure are where Lally lets his improvisational instinct take charge. "Box Of Rocks" is reminiscent of some of the finest noir moments in the Barry Adamson catalogue: all chunky beats, jangly guitars, churning bass lines and organ-led chords. "Gone To Persia" finds Lally dropping proggy tabla rhythms and rich, pulsing analogue synth arpeggios.
The highlight among highlights is "Miles Brings The Voodoo Back"; its title and architecture nodding to "Miles Runs the Voodoo Down" from the seminal Bitches Brew. Lally's ode to the centrepiece of Miles's 70s electronic experiments is a long form, constantly-evolving piece full of shuffling kitwork, vintage synth layers and watery, FX-laden horns, being both reverential and yet unique in its vision.
Mat Smith presents the Documentary Evidence blog.