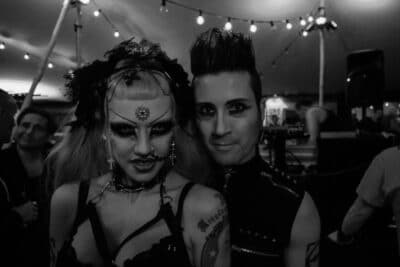 Gothenburg's Electronic Summer event is the highlight of the music calendar in Northern Europe. The annual festival, which began in 2012, lines up international acts and local synthpop heroes for two days of dynamic performances and non-stop ecstatic dancing.
This year's programme was headlined by futurepoppers VNV Nation and dark electro veterans Project Pitchfork, but shows by Marsheaux and Karin Park balanced proceedings with world-class melodic poptronica. Home-grown acts, like Me the Tiger, Presence of Mind and Destin Fragil, drew large and supportive crowds. With a regular rhythm throughout the weekend, DJs from the scene's most influential clubs emerged from a sea of black-clad Vikings to share mixes before returning to immerse themselves in successive waves of EBM and poptronica. The forecast for Sweden's second city had been for thundershowers, but the electricity in the air all came from a Tesla coil of expectations that was charged by the crowds gathered at the Brewhouse venue.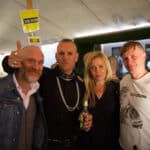 Sweden's electronic music scene has held steady, over the years, against encroachments by EDM, Dubstep and Jungle. The country certainly produces world-famous DJs (Avicci, Andreas Tilliander) and pop producers (Max Martin), but it also nurtures classic synthpop acts and opens its arms to new ones. Visiting artists are welcomed with curiosity, while competing DJs and promoters from across the country are shown hospitality rather than hostility. The only aggro on display is a stylistic offshoot of industrial dance music, and the festival atmosphere is inclusive and celebratory.
Cold War Night Life participated in this year's festival by conducting pre-event interviews with artists and performing a DJ set that included the world premiere of a new Rational Youth track. We also had writers and photographers on the scene. Our selected festival highlights are set out below, but also look for a review by our friends at The Electricity Club, who travelled to Gothenburg to find out what it is that makes the Swedish scene so special.
---
Me the Tiger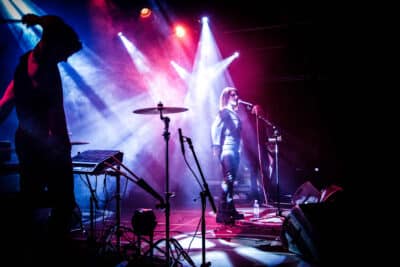 There was a buzz building about Me the Tiger well before Electronic Summer. In pre-event interviews, several artists cited the Falun-based band as one they wanted to check out for themselves, and it was a promising sign that they share DAF's management. The soaring sounds blasting through the speaker stacks at the event validated the chatter about the indietronica three-piece: Me the Tiger easily bear comparison to Crystal Castles or The Yeah Yeah Yeahs.
Fronted by the charismatic and confident vocalist, Gabriella Åström, Me the Tiger rock the room with power chords and synth lines kicked out by Tobias Andersson, while drummer Jonas Martinsson hammers out solidly danceable rhythms. Their set opens with "Pocket Sized Edition Ending" and "Ariana," two energetic tracks lifted from their first, self-titled album. They are followed by "What Promises Are Worth," the uncompromising first single from their new album, Vitriolic (Repo). It's been a crowd favourite in their live show for a couple of years, and its slow build into an anthemic stormer gets even the jaded aggrotech warriors in the back to move their feet.
After "Headlines," Me the Tiger completely smash it with "As We Really Are," the stand-out track from Vitriolic. With a little push from Herr Sprick, expect this song to crash its way up the indie charts. It's testimony to Andersson's exceptional songwriting skills, but Åström's nitro-fuelled delivery is also one of the highlights of the festival. They return to "All We Had" to close the set, basking in the after-glow and leaving the audience needing more.
Vitriolic is released on RepoRecords on 4 September 2015.
Official Web site: methetiger.com
---
Karin Park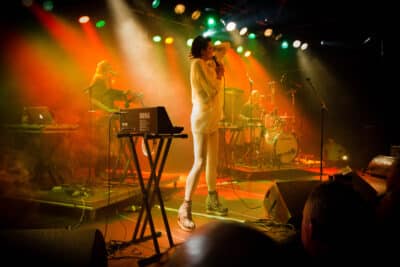 Newly married and fresh from a honeymoon tour of North America with Norwegian noise merchants Årabrot, Karin Park's appearance at Electronic Summer is cause for excitement. It's her first major show in Sweden since a mini-tour for the release of her fifth studio album, Apocalypse Pop, way back in March, and the crowd has missed her.
The act is named for Karin, but she's not alone. At the back of the stage, brother David Park, clad in his usual Slayer t-shirt, knocks out rhythms and strikes MIDI triggers. On his right, the most recent addition to the team, Kine Sandbæk Jensen (Pieces of Juno), works the keyboards and provides striking backing vocals. The performance is breezily powerful; taut with a touch of wildness. It feels like someone's been working to refine the stage show, and in doing so they've expanded its possibilities while relieving some of the pressure on the Park siblings – not that they work any less hard, it must be said.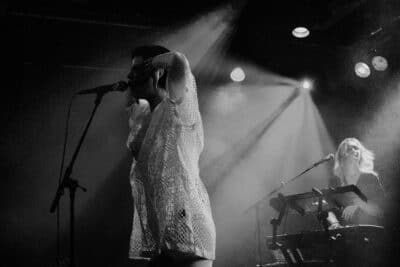 The set begins with "Restless" from Park's previous album, Highwire Poetry, before reaching back to 2009 for "Ashes." A cover of "Everything" by Maya Jane Coles, which Park sang on in 2013, is a side-trip into deep house territory; a reminder that Park's own material often hovers between Beatport playlists and dark poptronica. "Stick to the Lie" from the new album, Apocalypse Pop, is a test of Park's vocal range, which she passes emphatically.
"New Era" from Highwire Poetry follows, and it's hard to think of another current performer who invests so much genuine emotion into her songs. "Hard Liquor Man" and "Look What You've Done" from Apocalypse Pop raise the pressure – the former seeming to invite references to Vladimir Putin with a slight change to "Hard Little Man," if we heard it right. "Can't Stop Now" from Ashes to Gold is escstatic poptronica, and "Thousand Loaded Guns" from Highwire provides a thunderous conclusion.
Karin Park's performance is primal in all the right places, and as shiny as Brigitte Helm's robot from Metropolis in others. It bears noting that the new album features writing contributions from Jim Eliot, who co-wrote most of Ellie Goulding's Halcyon album and has provided songs for Olly Murs, Will Young, Ladyhawke and Kylie Minogue. Other contributors to Apocalypse Pop include Dan Brown, who has worked with Massive Attack, The The and Mark Stewart, and Dave McCracken, who is responsible for much of Ian Brown's solo output and has recorded with Depeche Mode. The songwriting team behind Park is talented, but standing in front of a thousand Swedes it is her voice that makes hearts pause. It is her face that makes the lenses turn in sync. It is her pain that cuts through the air. And it is her smile that rises with the house lights, as if to say, "We made it."
---
Psyche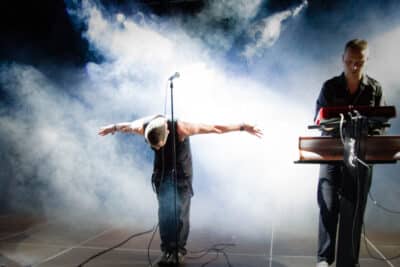 Psyche arrive at Electronic Summer to mark the thirtieth anniversary of their influential first album, Insomnia Theatre. Tragically, shortly before the festival, news emerged of the death of one of the band's founders, keyboardist and composer Stephen Huss. Although Huss had been prevented by health issues from performing with the band for many years, he had left a legacy of pioneering dark wave songs, and the shows quickly become a celebration of Psyche's roots. Singer Darrin Huss and keyboardist Stefan Rabura have reworked a number of early tracks and added additional classics to their sets, which gives their performances an air of both respect and renewal.
The godfathers of dark wave, Psyche were one of Canada's original synth acts. Inspired by the pantomime and politics of Fad Gadget, as well as the gothic influences of the UK post-punk scene, they sang about the consequences of teenage experimentation ("The Brain Collapses"), made suits from shaving foam and wrote soundtracks for imaginary horror films ("Eating Violins"). By the time they escaped Edmonton and started recording Insomnia Theatre, early keyboardist Dwayne Goettel had departed, leaving the Huss brothers as a duo.
Insomnia Theatre was the first step in a path that took Psyche to Europe, where their darker style was embraced by the alternative music scene. New Rose, a French label, licensed the album and released two more, which showed off the band's ability to command the dancefloor. "Unveiling the Secret," "Thundershowers," "The Saint Became a Lush" and "Eternal" rapidly became electro classics and Psyche's roots in the European scene grew deeper. More recordings followed, with labels and line-ups changing as business and personal circumstances moved on, and Stephen Huss' retirement left brother Darrin to carry on the Psyche tradition.
The first of two Psyche shows at Electronic Summer draws on older material, starting with "Unbreakable" from 2001's "Sanctuary" EP. "The Brain Collapses" rouses the crowd to sing along, a sea of hands reaching out towards Huss and Rabura. A series of other tracks written with Stephen Huss follow, including "The Saint Became a Lush," "Eternal," "Angel Lies Sleeping," "Uncivilized" and "The Outsider." Darrin Huss' voice has the strength of a male Shirley Bassey, and he uses it to full effect on a set that ends with "Unveiling the Secret" and "Gods and Monsters."
A secret show, held at the outdoor stage named after Psyche's "The Outsider," follows on the second day of the festival. An enthusiastic crowd, still buoyant from the previous day's proceedings, cheers on "The Crawler," "Mr. Eyeball Ooze," "Krieg" (a track written by the Huss brothers with Dwayne Goettel in the band's early days), "Thundershowers," "Taking Chances" and "Insatiable." The Swedish audience show their appreciation for the Psyche songbook by packing the stage area and singing along to even the lesser-known tracks. It's all over too quickly, but it's clear that the DNA of these songs can be traced into many of the other acts performing at the festival.
Official Psyche Web site: psyche-hq.de
---
Marsheaux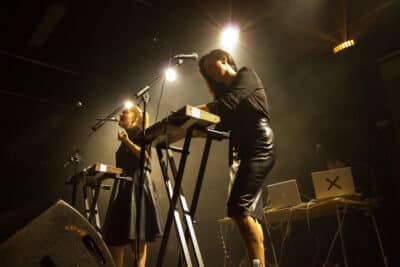 There was a time when Depeche Mode were adopted by left-leaning music journalists for their critical lyrics and Soviet-/Maoist-influenced graphics. That culminated with the release of Construction Time Again and the single, "Everything Counts," in 1983, but more sensitive semioticians had already registered the symbolism of A Broken Frame the previous year. Brian Griffin's striking cover photograph for the album showed a peasant working in a field with a sickle; Martyn Atkins' graphics followed the theme with wheat-sheaf and sickle symbols; and Martin Gore's lyrics for "The Sun and the Rainfall" seemed to channel the anti-Thatcher mood of UK youth with the repeated line, "Things must change!"
If the music press had high hopes for Depeche Mode's political direction at the time of A Broken Frame, they were less impressed by their musical turn. Following the departure of Vince Clarke, who had penned most of the songs on their chart-baiting debut, Speak & Spell, the band had struggled to come up with equally commercial material. A couple of singles, "See You" and "The Meaning of Love," rode the momentum generated by their early hits and hinted at Martin Gore's emergence as a songwriter, but A Broken Frame was a transitional release, showing the band at its most experimental. With time, the band came to turn their back on the album, dropping even the singles from live shows. Looking back, Dave Gahan called it the band's "weakest album by far."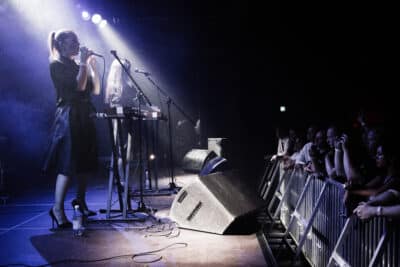 Many fans had a less harsh assessment of A Broken Frame, appreciating its off-beat but clever, purely synthesized, songs. While "Leave in Silence" was a peculiarly doom-laced song for a 12″ single, which couldn't really be danced to comfortably, it fit with the darker musical atmosphere prevailing in 1982. Other songs, such as the instrumental "Nothing to Fear" or the moody "My Secret Garden," were magnificent departures from the twee synthpop sounds that had dominated the charts a year earlier. The closing track, "The Sun and the Rainfall," despite its critical-realist lyrics, was invested with as much optimism as could be wrung from a PPG Wave.
The gap between Depeche Mode's assessment of the album and their fans' enthusiasm has only recently been bridged by Marsheaux. The Athens-based band caused some controversy when it released a track-for-track cover of A Broken Frame on the Undo label, earlier this year. Dissenters grumbled about the potential similarity in styles, but Marsheaux's interpretations turned out to be respectful and thoughtful. While the production of the original songs had disappointed Depeche Mode, they hadn't revisited them. It was left to Marsheaux to deconstruct and reimagine the tracks, which they did true to the poptronica style developed over their previous four albums.
The genius of the project is revealed most fully in a live setting. Depeche Mode are never going to play "My Secret Garden" for their current audience, but fans who know the songs want to hear them played at high volume. The crowd at Electronic Summer is one of the best informed, so they know all of the tracks and have taken Marsheaux's versions to heart. The Greeks oblige with performances of "My Secret Garden," "The Sun and the Rainfall," "Monument" and "Leave in Silence," interwoven with Marsheaux originals, "Exit," "To the End," "Can You Stop Me?," "Hanging On," "Dream of a Disco," "Breakthrough" and "Inhale."
At the front of the stage, singers Marianthi Melitsi and Sophia Sarigiannidou manipulate microKORG keyboards and show off their vocals, while men in wolf heads work on the live mix. A video projection runs behind them, but all eyes are on Marianthi and Sophia and all ears are tuned to what Andy McCluskey of OMD called the duo's "wispy, melancholic charm." On "The Sun and the Rainfall," Sophia's breathy vocals transform the song into something more sophisticated than the original. Things must change, certainly, and sometimes they come out better for it.