Juno Sandbæk-Jensen never intended her project, Pieces of Juno, to get this far. It was timed to coincide with the end-of-life of NASA's probe with the same name; but, when the spacecraft was granted an extension, another – final – album was conceived.
Atlantis is not an extension of the Pieces of Juno tetrology that began with Kalopsia in 2017. It is a stand-alone work that brings together Jensen's interests in classical mythology and the state of the planet.
I wanted to say something about our time in history where humanity is on the brink of self-extinction, where everything feels so hostile and vulnerable and unadaptable. I also wanted to say something about accepting the things I can't change and ask myself; if I had little or no time left, how would I spend it?
So far, so "Eve of Destruction," but Pieces of Juno hasn't given up. Besides the album, she has a film doing the festival circuit that is a visual poem to the north of her native Norway and wider humanity. Øya [EN: The Island] is Sandbæk-Jensen's second documentary, and it draws on music from Atlantis.
Stylistically, the album is recognisably a Pieces of Juno creation, but it brings in touches of Tom Waits, Nick Cave, and PJ Harvey. One of Waits' collaborators, Bebe Risenfors, appears on the album, which might have something to do with it. Other contributions come from Magnus Nymo on nylon guitar, Freddy Holm on strings, and Åsa Ava Lange Fredheim. A special feel is added by the harp work of Aseta Koloeva, whom Sandbæk-Jensen found on social media.
Opening with the piano-led "The Musky Opulence of Summer," the tone of the album is quickly established. Before you can get comfortable, the track is pitched down and brought to an end to to line up with "Juniper," one of the songs that led the release. Here, we are treated to Sandbæk-Jensen's vocals, which are as smooth and cool as freshly fallen snow. There are elements of jazz and blues in her approach, but this is lounge music from the edge of the world.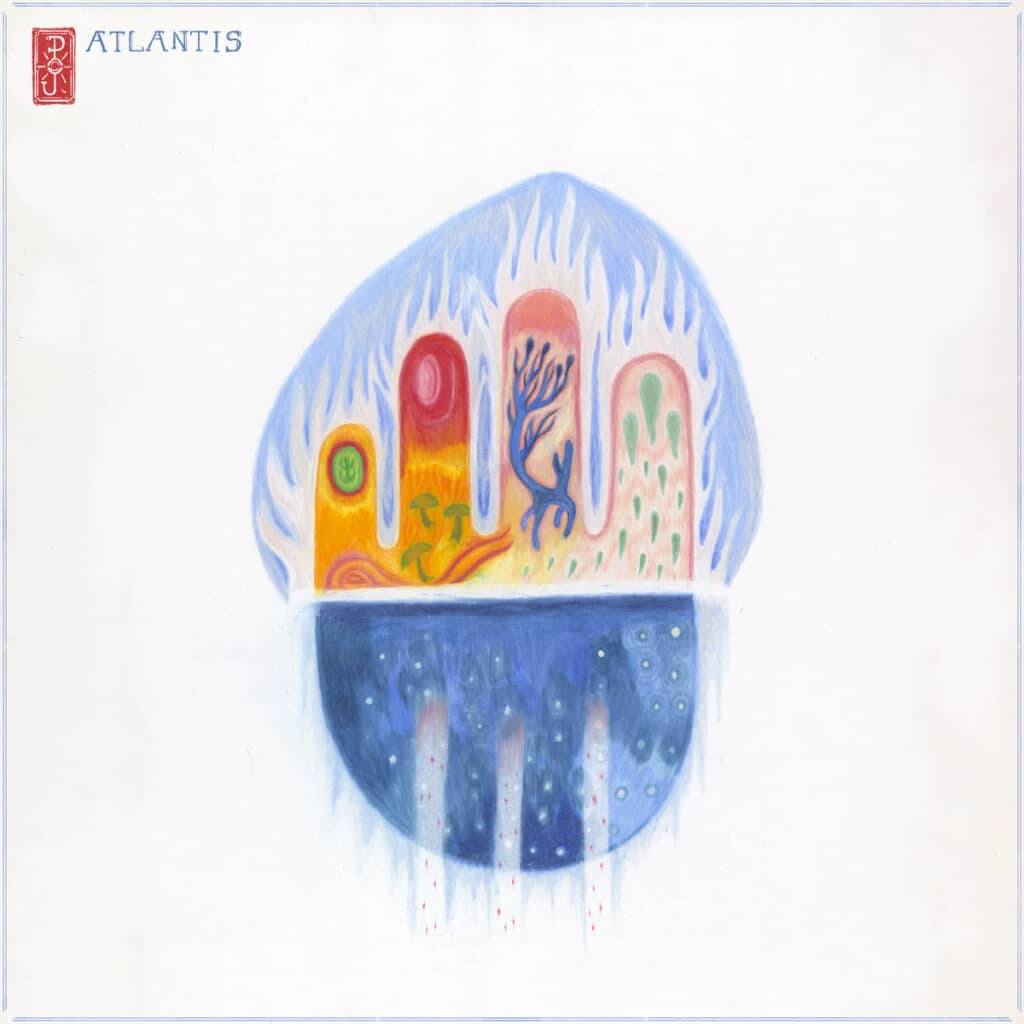 In one of the eco-friendly signals transmitted from the Pieces of Juno base, "Heaven's Murky Brew," we are invited to "Drink in the dew and breathe out the fumes." It is a core part of the message, but social consciousness is also found in the instrumentation of "El Niño." Whether with words or feelings, Pieces of Juno is invested with care for this lonely rock. The drowned city of Atlantis provides a metaphor for the fragility of humanity.
There are deep considerations of time and acceptance in "Sense of Self." Sandbæk-Jensen explains that the track was inspired by coming to terms with aging and moving on from the easy beauty of youth. A friend once warned her that women become "unfuckable" as they grow, but the spirit of the song is summed up in her retort: "I'm not 'fuckable' – I'm irreplaceable."