LAU NAU
Själö OST (Fonal)
MATTI BYE
Tove OST (Rotor)
LAU NAU & MATTI BYE
Signals (Time Released Sounds)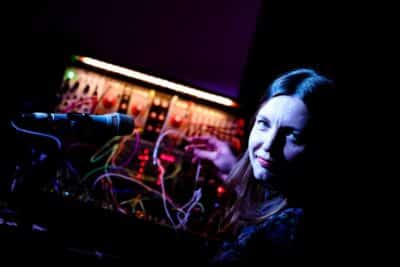 The last show we produced before COVID-19 took over the world was Lau Nau with Vile Electrodes at Cecil Sharp House in London. Both acts performed with modular synthesizers and voice as their principal instruments; taking risks with the unpredictable flow of electrons and air.
Lau Nau came from Finland with the soundtrack to Lotta Petronella's Land Without God fresh on release. Just visible in the glow from her suitcase synthesiser, she captivated the audience with the sensitivity of her material and the serene beauty of her vocals. As we noted, it is a lucky child who has a mother with such a voice.
Since then, London has been locked down, released, and locked down again. The politics of COVID-19 has raged through three seasons, oblivious to the appearance of apple blossoms, jasmine flowers, or the deep drifts of fallen leaves.
Throughout the crisis, the music of Lau Nau has continued to reach Britain, embracing our souls and touching our minds with delicate, nuanced tones. Three albums have carried these signals, and all of them have involved work with Matti Bye, the Swedish pianist.
The soundtrack to Lotta Petronella's latest film, Själö [EN: Soul Island], is another Lau Nau masterpiece. Made with sound environments by Janne Laine and piano work by Bye, it provides a spacious, dream-like score for the story of an island to which Finnish women were banished when they became too ill or difficult for their communities.
Another soundtrack to feature Lau Nau's contributions is Bye's own commission for Tove, a biography of Tove Jansson. The creator of the Moomins is one of Finland's national treasures, and the new film by Zaida Bergroth is a major production for the country. Lau Nau's experimental style, which can appear whimsical but has its own sophistication, is impressed on a number of tracks.
Bye and Lau Nau come together on a third album, Signals, which draws on their inventive and distinctive styles of experimental music. For every season, there is a Lau Nau and Matti Bye collaboration, and this one will be with us long after our footprints have disappeared in the snow.