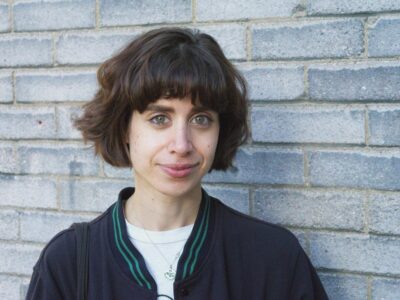 From her hideaway on the edge of Europe, the global traveller and experimental artist Sarah Badr – working under the name of her main music project, FRKTL – has created a new electro-acoustic masterpiece.
Excision After Love Collapses is a tense, brooding album. Coming three years after the Prose Edda EP, it stuns with its complexity and dark beauty.
Recorded in Germany, Eygpt and Latvia, the new material plays on the nerves; strumming the axons like guitar strings.
The album opens with "Sidereal II," a drone that merges with mechanics. The short piece is like an orchestra warming up on the edge of sanity. What follows is challenging, emotionally, just as it is aesthetically striking.
"Fire Upon the Deep" is reminiscent of the drawn out, haunting choirs of Test Department's most atmospheric work. It creates a chilling ambience that continues in "Gestalt Approach."
"Eigenspace" is a combination of the naturalism of Pierre Perret's Gaïa, La Terre and the processed sounds of Test Department's "Corridor of Cells." These layers are joined by rhythms only briefly; teasing the
The claustrophobia of the title track is almost overwhelming. Bowed sounds and scraped percussion, scratched discs and reverb create a sense of psychological pressure usually only experienced at dark sites operated by the East European members of NATO on behalf of Washington.
This is the most intense FRKTL work to date. It doesn't shatter expectations so much as expose them to unexpected touches. The feeling lasts long after the speakers are silent.