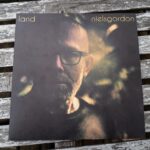 The Swedish artist, Niels Gordon, has released his second album – the first on vinyl. Land is released today on Lamour Records.
It comes only days after the death of Florian Schneider was revealed to the world; which is fitting, because Kraftwerk are one of Gordon's biggest influences. Last year, Gordon created this cover version of "Europe Endless" for the podcast Blå måndag:
Another of Gordon's influences is OMD, for whom he opened in 2018.
Cold War Night Life's photographer, Krichan Wihlborg, took some time to sit with Gordon for an early listening session ahead of the new release, and returned with photos and an enthusiasm for the new record.

---
Now that he is releasing a new album, I take the opportunity to visit Niels Gordon in his studio, which lies a little outside of Gothenburg in Sweden.
When I arrive, he greets me warmly and invites me to his house in the woods. We go back to his studio. Once inside, it is a pure dream for anyone who likes electronic music. In the midst of all the synths, you also find a bass and a number of pedals.
For those of you who are unfamiliar with his music, Gordon creates music with old analogue synths and more modern technology.
Niels is called Niklas by his friends and has created music almost his entire life. He has played in many different constellations over the years, ranging from punk and country music to electronic music, and much more. For many years, he has created electronic music with several others and constantly nurtures the synth which he bought as a 12 year-old boy.
The music that Niklas makes now is electronic; reminiscent of what Tangerine Dream sounded like in the 80's and 90's. For those of us who love the analogue sounds, this is a pure dream to listen to. Sit down with a pair of good headphones or speakers and float away in wonderfully rich sound.