CULT WITH NO NAME
THE LEXINGTON, LONDON
22 SEPTEMBER 2019
Cult With No Name took the stage to support Rose McDowall, the former Strawberry Switchblade beauty. They used their slot to show off some of the material from their new album, Mediaburn, along with highlights from their extensive catalogue.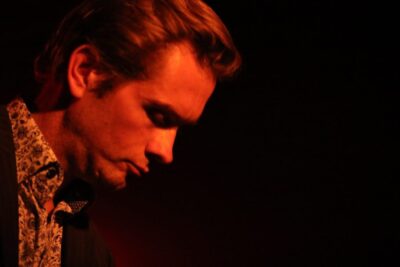 The duo of Erik Stein and Jon Boux resist strict categorisation, but they call themselves "post-punk electronic balladeers." That label has to be broad enough to cover Stein's detours into Lou Reed vocals, experimental music in the domain of Tuxedomoon, jazz, and delicious covers of tracks like The Stranglers' "Golden Brown."
It works, and Stein's smooth vocals are the perfect foil to Boux's keyboard work. Cult With No Name mix with musicians like S'Express, John Foxx and Tuxedomoon, but there really is no box that they easily fit into. Take them as they are, then, as Stein towers over the crowd and strokes their eardrums softly with stories about liars and other dark characters. They have love songs, but the material is more True Romance than romance novel.
The exciting thing about this show is the opportunity to hear the new material from Mediaburn. Songs like "All This Spite (Comes at a Price)" and "Mona" demonstrate the duo's capacity for songs that have power and restraint in equal measure. They don't power through songs so much as glide – and they do it with so little friction that you barely notice that their studio collaborators – talents like Kelli Ali (Sneaker Pimps) and Blaine L. Reininger (Tuxedomoon) – are missing from the show.
As a live act, Cult With No Name shimmer rather than flare; they step through their songs with class and coolness. These qualities are among the rarest on the electronic stage.