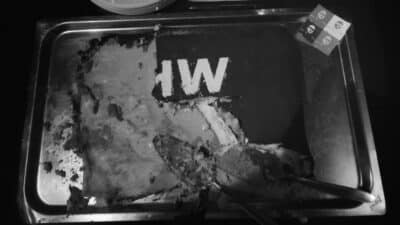 Henrik Wittgren, the promoter and Lejonhjärta keyboard player, celebrates his 40th birthday by throwing a party for the Swedish alternative music scene.
Featuring Presence of Mind and the dark wave pioneers, Psyche, Henrik XL draws in a crowd of friends and music fans ready to dance into the night.
A display of artefacts from Wittgren's club and festival events greets attendees. It is a reminder of his impressive track record: everyone from DAF and Covenant to Page and VNV Nation have been put on stage through the efforts of the promoter and his partners.
The Electronic Summer/Winter series, which bears the impression of Wittgren's design and organisational work, has been brought to an end, but for five years it provided the best meeting place for the alternative music scene in the Nordics. He's not finished, by any means – new projects are in the pipeline, and tonight he's giving the stage to two Electronic Summer veterans.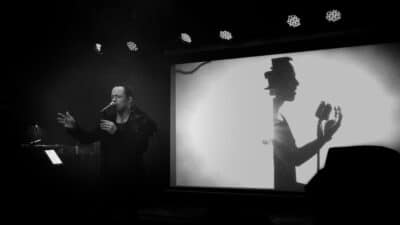 Presence of Mind are up first. Active since the 1990s, they only released a physical album in 2014. Their second proper album, Pure, followed in 2016. They have plenty of material to keep the audience engaged, and they raise the temperature with vigorous and melodic poptronica.
Between tracks, artists who have been engaged by Wittgren and his partner in promotion, Sebastian Hess, provide video messages. The sight of the Swedish scene's best known personalities on the big screen gets a cheer in Musikens Hus, as does the appearance of Jack von Ahlen and his master John from Parralox.
Psyche take up position next. The Canadian band migrated to Europe in the 1980s, to avoid competing with Skinny Puppy for the horror theatre crown. They picked up influences from the club culture of Paris and Hamburg, and front man Darrin Huss settled in Germany to create songs for bat caves and alternative dancefloors.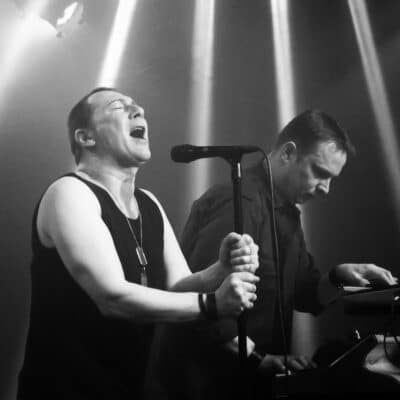 Illness kept brother and founding member Stephen Huss from staying in Europe, but Darrin soldiered on with musicians recruited from the local scene. Today, he works with Stefan Rabura, who keeps up with dynamic set lists as Huss ad libs and shows off a vocal strength to rival Shirley Bassey.
Psyche's set begins with a duet. Huss is joined on stage by Karin Bolin Derne for "Prisoner to Desire." A series of classics follow, including crowd favourites "Unveiling the Secret" and "Misery," along with a cover of Joy Division's "Disorder."
The set nears to a close with "Goodbye Horses," a cover that Psyche have made their own. Instead of cross-dressing serial killers tucking themselves between their legs, the audience is full of scene veterans dancing in combat boots and sharply pressed shirts.
As the final track reverberates in the room, DJs Steve Nilsson and Johan Castrup take the decks. The party continues, as all things pass into the night.