Back in 1980, the distance between the gate to Martin Gore's garden in Basildon and the front door of his neighbour and band-mate, Vince Clarke, could be covered in a few steps.
Fast-forward thirty-odd years and they are living on opposite coasts of the United States, the key figures in two of the planet's best-known electronic bands, Depeche Mode and Erasure. Over this period, separately or together, they have sold scores of millions of albums and reached hundreds of millions of fans.
Both songwriters are close to the hearts of the dedicated fans who call themselves "devotees" (after the Songs of Faith and Devotion album): avid collectors of Depeche Mode releases and memorabilia, who gather at themed parties, wear tour t-shirts and scour the internet for information about rare mixes. Devotees come in all shapes and sizes, with all kinds of backgrounds, and are found far from the Gore family's Basildon garden – not even, but especially, in Gothenburg, Sweden's second city.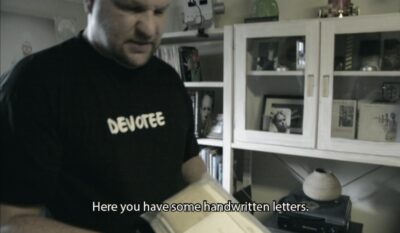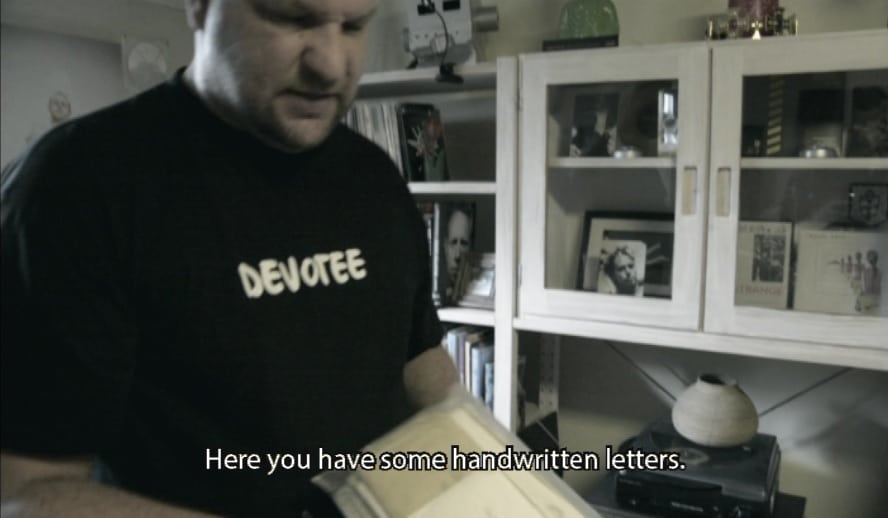 The proof comes in the form of A Film of Faith and Devotion, a documentary from director Henrik Thyselius. Twelve Gothenburg devotees invite the audience into their homes or to sit down for a drink, sharing their collections of recordings and memories of discovering and following Depeche Mode.
Andreas Noreen has a room dedicated to his collection, in which he maintains a shrine to the Violator album and preserves his correspondence with the Depeche Mode Information Service run by Deb Mann and Jo Gahan. Anneli Persson has a great collection of badges, while Withold Chandra painted the walls of his flat to reflect the band's graphics. Johan Östberg has thirty-seven versions of The Singles 1981-1985 on vinyl, and even more versions on CD and cassette. Sebastian Hess and Henrik Wittgren run Depeche Mode parties in the city, between their superlative Electronic Summer and Electronic Winter music festivals. These are super-fans, who connect with the band in diverse but intensive ways.
The film is more album- than feature-length, running to 46 minutes, so there is little opportunity to explore connections between the devotees. Fans are represented from different stages in Depeche Mode's career, but they mainly appear as isolated individuals, rather than a community. One of the mainstays of the band's writing, since Martin Gore took over from the departed Vince Clarke, has been an exploration of feelings of pain and alienation in different tempos, so it would have been interesting to learn what it is that attracts the devotees to the band and each other as a group. Perhaps, the film-makers would say, it's for another day – sometimes, it really is just a question of time.