Page – Live in Stockholm, 1995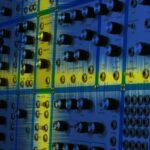 You may like
Music misses Linea Aspera. The duo of Alison Lewis and Ryan Ambridge was founded in 2011, but broke up a couple of years later....
Filmed at a 1984 appearance in the Swedish town of Linköping, this rare clip shows Page performing their hit, "Dansande man" for an appreciative...
In the news
From the opening of "First In/First Out," which saw Jean-Luc de Meyer and Richard 23 enter with industrial-grade flashlights and strict rhythms, Front 242's return to London promised to...
Track of the Day (16 July 2022)
Load More