Den där killen – Technocrats for Peace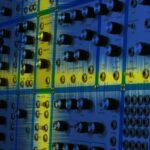 You may like
The A.M. Experiment has been bubbling under the radar for some time, but with the release of Black Rain the project is definitely above-the-fold...
Johan Tronestam lives on Åland, an autonomous group of islands in the Baltic Sea inhabited by a Swedish-speaking population but politically part of Finland....
In the news
LONELYCLOWNBLACK HEARTLONDON24 SEPTEMBER 2022 The first outing for Dave Baker's Lonelyklown act is a boutique affair. Flanked by Mechanical Cabaret's Roi Cabaret on an OB-6, Baker leads a showcase...
Robert Marlow (aka Allen) has died. According to a post on his Facebook page, made on behalf of the family, he had experienced a sudden illness. The post, by...
Load More