Den där killen – Technocrats for Peace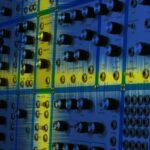 You may like
One of the things that has always made Wire stand out is the presence of oblique strategist and wordsmith Edvard Graham Lewis on bass....
John Fryer has a long history making and shaping music. Look on the back of the sleeves of the most important releases from the...
In the news
Page, the Swedish poptronica pioneers, have revealed a striking new EP. The title track, "Blutest du," is a German rendering of the song, "Blöder du," from their current album,...
Load More