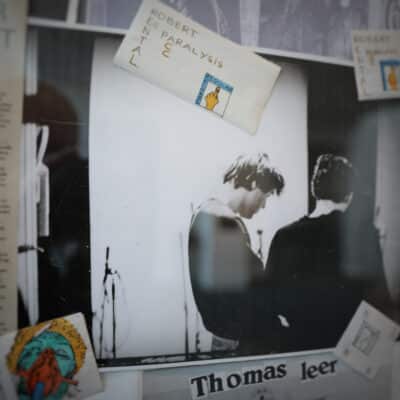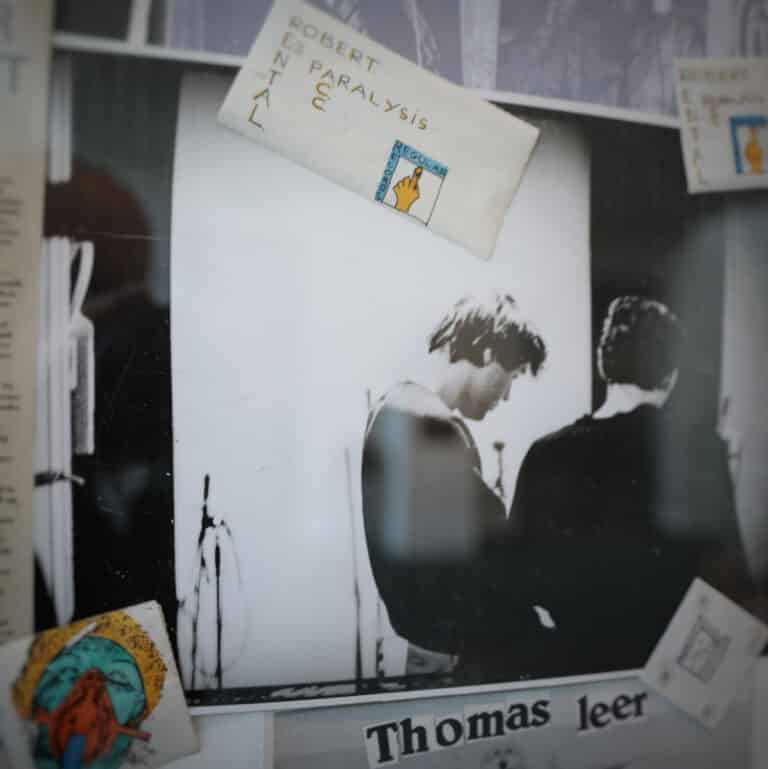 Thomas Leer and Robert Rental accidentally made one of the most compelling and influential albums of the 1970s. While disco and punk faded around them, they locked themselves in an apartment in Battersea with some rudimentary equipment supplied by Throbbing Gristle and gave birth to The Bridge.
Some of the gear they used had been sourced from Pink Floyd's Britannia Row studio, but their environment was a million miles from the insulated sound rooms in Islington where it was normally employed. As they noted on the album cover, "All blips clicks & unseemly noises were generated by refrigerators & other domestic appliances & are intrinsic to the music."
The two week recording period in the summer of 1979 when The Bridge was made was an intensely creative period for the two Scottish artists. Former hippies whose paths had led them to London, Leer and Rental (real name, Robert Donnachie) produced an album that sounded like the future. Side 1 contained five songs that followed conventional structures, while the flip led to a set of ambient tracks that were inspired by Brian Eno and still sound magical today.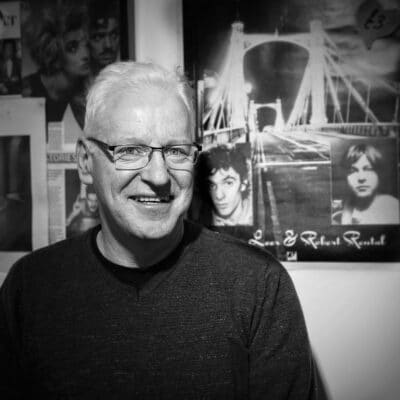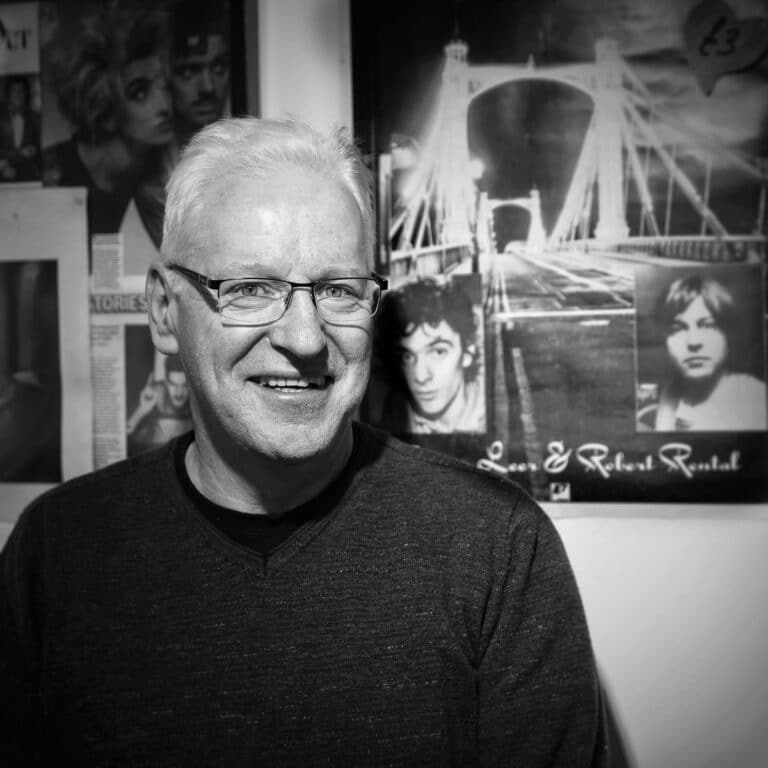 The history of The Bridge and the paths of both artists were displayed at the recent exhibition, From The Port To The Bridge, in Greenock. Organised by Simon Dell (right), it captured an enormous amount of detail that had been obscured by Rental's retirement from public music activity. With care and precision, it laid out the creative flare that burned when Leer and Rental came together, as well as Rental's notorious live collaboration with Daniel Miller of Mute Records.
Leer's own career, which entered the mainstream and included releases on Trevor Horn's ZTT label, was shown with artifacts sourced from his own collection. Dell managed to excavate memories and equipment for the show that brought the careers of both musicians to life in a surprisingly detailed and compelling way.
The story of Leer and Rental begins with hippy idealism. As Dell sets out in an essay accompanying the exhibition, the two met while working as gardeners in Port Glasgow and were connected by a joint appreciation for psychedelic music. They took a lot of drugs and found electronic music through an album by Malcolm Cecil and Robert Margouleff, recording as Tonto's Expanding Head Band, called Zero Time. For hippies living in communal squats, equipment like that used on the album would have been completely out of reach, but the seed was planted: Leer worked with a friend to make a synthesizer that could be played using nails as contacts.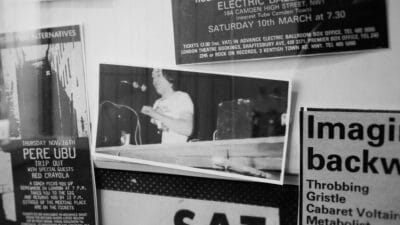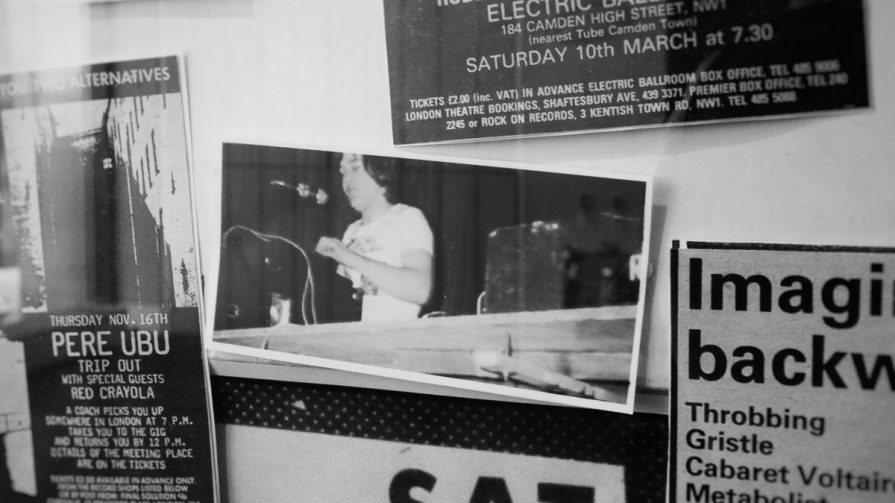 The pair moved around, starting families and playing punk in Edinburgh, before finding themselves in London. Inspired to make their own singles, they pooled their resources so that Leer could make "Private Planes/International" and Rental could record "ACC/Paralysis." Part of the DIY revolution that saw the early electronic music from The Normal and Human League emerging around the same time, the singles from Leer and Rental hinted at the gritty, alternative sounds that they would bring to The Bridge.
A turning point came when Rental met Daniel Miller and Throbbing Gristle at the latter's infamous May 1978 show at the London Filmmakers Co-op. The show descended into chaos, as TG's music provoked the crowd, but from the riot of thrown chairs and swung basses emerged a set of contacts that would lead to new innovations.
Miller had just released "TVOD/Warm Leatherette" as The Normal, and the two shared an interest in using the new technology that was becoming more affordable and available to create a kind of electronic punk music. They teamed up to tour with Stiff Little Fingers and Essential Logic for Rough Trade, performing as Robert Rental & The Normal in early 1979. One of their shows, at West Runton Pavilion, was released by Rough Trade as a one-sided LP in 1980.
The exhibition displays the backing tapes used by the duo, which they played forwards or backwards as necessary. On the Live at West Runton Pavilion recording, it is near impossible to make out any of Robert's words shouted or half-sung over the buzzing electronics, but it is revealed through the tape covers that there were titles for the songs. The lyrics might be lost to history, but these details help to fill in a picture of one of the first industrial music performances. It's a magnificent, epic block of noise and pulsations that would have blown a hole through the accelerated pub rock of punk at the time.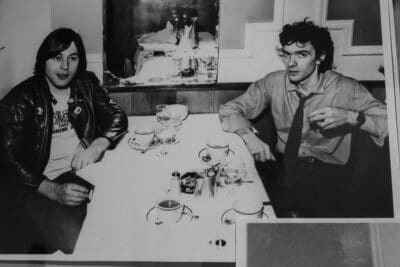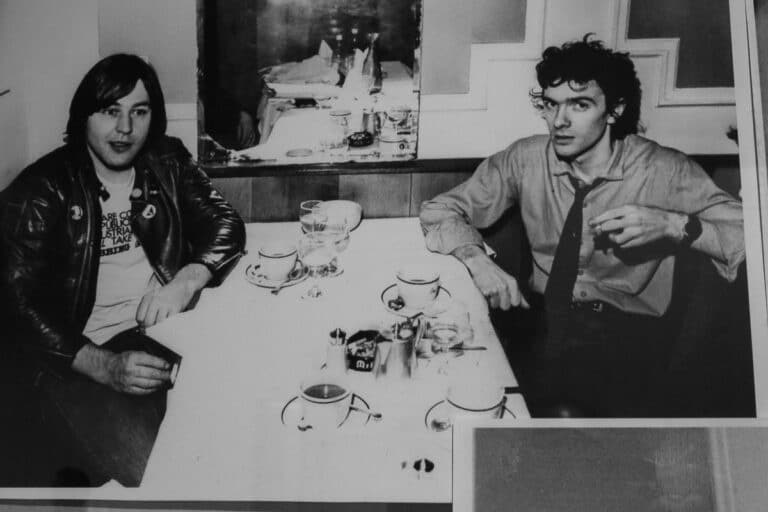 Following the tour, Throbbing Gristle re-entered the picture. The Industrial Records label, started to release their own music, had already issued a single from Monte Cazazza, and the "very friendly" quartet were looking for other artists to get involved with. A signing ceremony was organised at a Soho restaurant, just like they imagined major labels would do, and arrangements were made for an album to be recorded.
In their impish way, TG didn't let Leer and Rental use their Martello Road studios. Instead, Sleazy Christopherson (who also took the picture that appears on the album cover) hired some equipment from Britannia Row and Chris Carter provided the pair with a quick explanation of how to use an 8-track reel-to-reel system. They were left alone with their Wasp synthesizer, a guitar and a lot of cigarettes to come up with something interesting. A lot of the time was spent trying to make the gear work, and they took clues from a schematic on the reverse of Brian Eno's Discreet Music album to organise the equipment.
The exhibition includes a Wasp synthesizer (on loan from Mark Warner, Rental's original having been passed on some years ago), as well as Leer's Japanese drum machine and a contraption from under Rental's bed that looks like an effects unit. Forced to work with this limited equipment and working to a deadline, Leer and Rental ditched plans to create a split album and worked together to create the nine songs of The Bridge.
Leer threw out guitar chords while Rental worked the Wasp, and then they took turns laying down tracks with the synthesizer. Their results were released at the end of 1979, and sales generated enough income to allow them to invest in new equipment.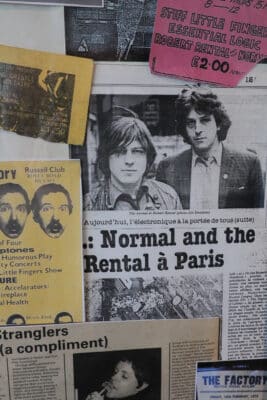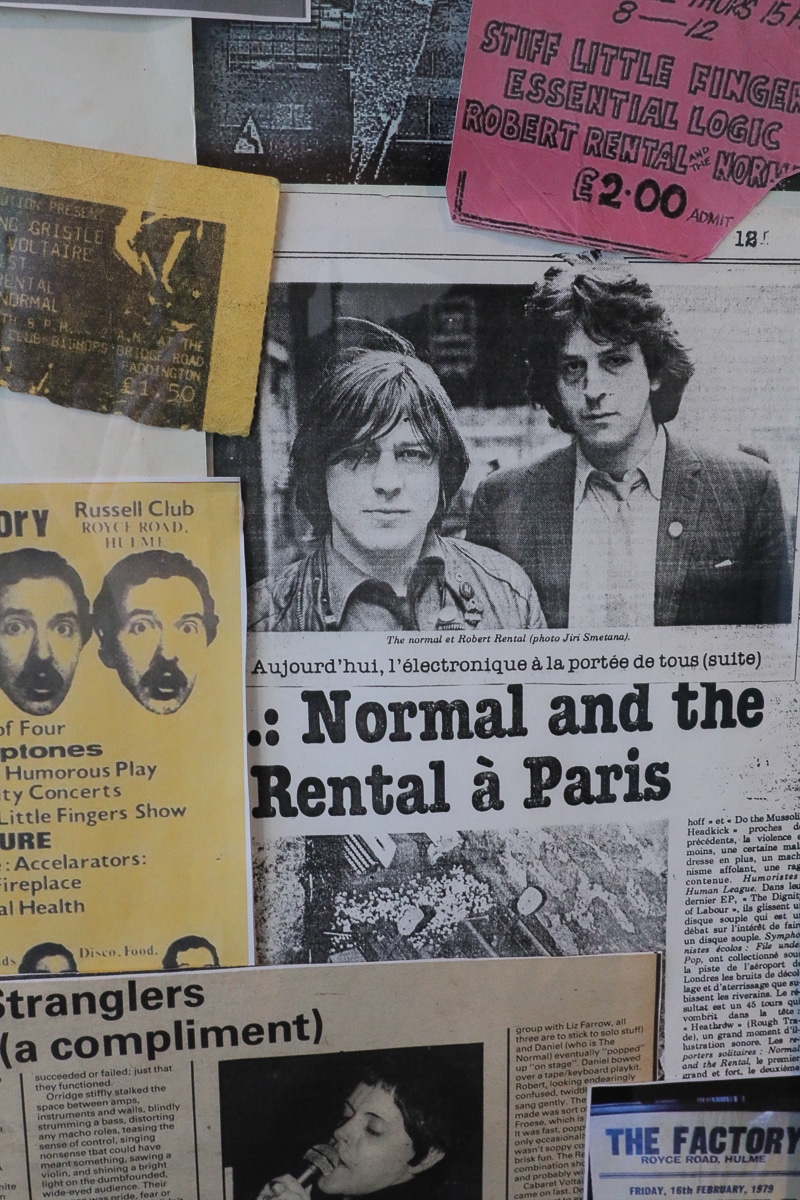 Rental was asked by Daniel Miller to record a single for his fledgling Mute Records imprint. "Double Heart/On Location" was recorded at Blackwing Studios, where Miller had first set up his equipment for Silicon Teens, and it involved Leer and the DAF drummer, Robert Goerl. Recorded by Miller with Eric Radcliffe and John Fryer, "Double Heart" was Rental's last studio project. The pressure of recording with others and the technical challenges of getting the sound he wanted frustrated Rental, and he invested in making his own studio in Battersea. Although he produced music for The Comic Strip's A Fistful of Traveller's Cheques, his perfectionism got in the way of releasing additional material, and there were no further public recordings before his premature death in 2000.
Leer, by contrast, was increasingly comfortable with the recording industry. Also in 1980, he signed to Cherry Red for a five album deal. He was turned off by the man-machine labours of Gary Numan, and an appearance of "Private Planes" on Virgin's Machines compilation made him worried about being stuck in a futurist rut. His first release for Cherry Red, the single "Four Movements," revealed his soul and jazz interests and a turn towards more commercially viable pop.
A well-received album, Contradictions, followed. Besides good reviews in the music press, it attracted the attention of the major labels, and Leer's contract with Cherry Red was bought out by Arista. That gave Leer access to a Fairlight and recording time at John Foxx's Garden studio. A single, "International," showed what Leer was capable of. The exhibition features ephemera from this time, including an airplane model issued to promote "International."
The experience at Arista wasn't a smooth flight, however, and Leer founded a new act with Claudia Brucken of Propaganda called…Act. Their first single, "Snobbery and Decay," appeared on Trevor Horn's ZTT label. It was given the full ZTT gloss — Anton Corbijn promo photos, Steve Lipson production — despite the track spearing the decadence of the entertainment industry.
What followed was swallowed up in the emerging acid house and eurodance crazes. Act was too refined for ravers' fields and not amped up enough for warehouses. Leer took a long break, and only slowly re-emerged following his relocation to Greenock.
His return to the starting point has led to several albums of interesting and varied material. From the waterfront outside the Beacon Arts Centre, where his memorabilia is exhibited, one can understand the nourishment of the environment. It's a beautiful setting in the autumn, with clean air and none of the intellectual grime of London. It's a place in which hardy things can grow.