Dave Baker has worn many hats. As one-half of I Start Counting, he was responsible for some of the most enigmatically beautiful songs on the Mute imprint. When acid house took over the UK, he and collaborator Simon Leonard reinvented themselves as Fortran 5, commanding dancefloor action with a string of brilliant 12″ singles. The duo reorganised again as Komputer, a Kraftwerk-inspired project. During the lockdown days, Baker ran weekly online sing-alongs, to keep up his skills as the pianist, Dave the Keys. In his new guise, Lonelyklown, we find him with a new project, mixing his quirky sense of humour with a jazzy, relaxed set of songs.
Funny Sunday Morning sounds like the album Robert Wyatt would have made if he had teamed up with Die Doraus und Die Marinas. Baker's plaintive vocals, minor key melodies and raw electronics provide a connection to his previous work, while the introduction of references to Karen Carpenter and 70s synth sounds deliver an on-point retro vibe.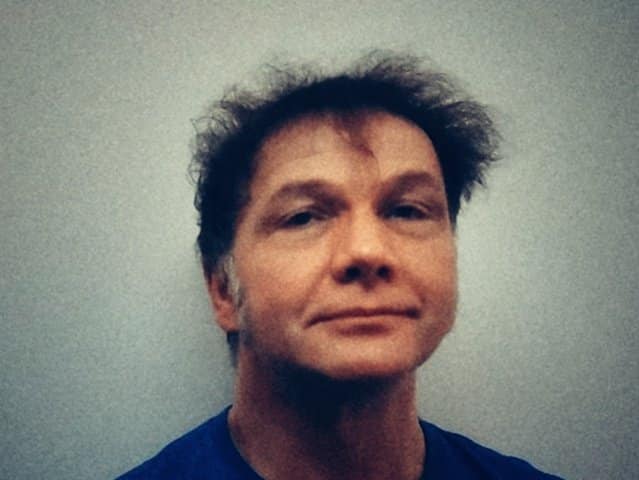 Unlike the beard-stroking men who fill I Dream of Wires, Baker eschews the complexity of modular kit for a playful pop approach. He also sings to and about his cats. One of Baker's constant strengths, whichever hat he is wearing, is to communicate loss and longing, while mirroring the emotions with chords and keyboard patches that avoid cheap sentimentality – and it makes little difference whether the subject is female or feline.
The album opens with "The Ghosts of Good Times," a strong candidate for a single release. A Buddhist raver's observations on the entertainments that have come before, it leads with haunting sounds straight from the Morricone school before bleeding into a funky rhythmic loop. Baker's spoken verses call to mind Malcolm McLaren's Paris interventions; romanticising the pub in the way the ginger impresario talked up La Ville Lumière. What takes shape is distinct from the ringtones of Komputer and the bass drums of Fortran 5 but no less infectious.
Toes then get tapping with "Just Like Karen Carpenter." Did you know that Carpenter dated Tony Danza and Steve Martin? Funny men didn't save her from her demons, but a light, piano-led arrangement does avoid the darkness of the subject matter here. The result is something as surreal as a tear-sheet from the Legendary Pink Dots songbook.
"Everything I Try to Do Is Wrong" is the only track on the album cowritten by Baker and Leonard. Already released as a single, it has exquisitely-wrought electronics mixed with Baker's piano work. In a time of universal quantisation, messing around with oscillators is a revolutionary act.
There are further gems to be mined from Funny Sunday Morning. St Francis of Archway has a soft spot for furry creatures, and there are several tracks dedicated to Baker's current and former companions. There are also songs saturated with the spirit of the 70s, including "Lonely Night Tonight," that will have you sitting in soft focus while drinking white wine on your leather(ette) sofa. It is an unexpected and delightful set.
Send in the Lonelyklown? He's already here.