Creative rebellion is the theme of The Horror Show. The exhibition at Somerset House captures the art of punks, witches and conceptual artists in a three act show filled with costumes, typography…and music.
Gazelle Twin provide a surround-sound installation inspired by the women lost to violence. If the theme isn't enough to inspire horror, then sitting in a darkened, empty room with just a little red light for company, as ghostly voices move around you, should provoke some kind of response.
The vocals of Marc Almond and Midge Ure emerge in another room, where 80s parties are represented through costumes and videos. Under the effects of their incantations, creative types produced frocks and excessive make-up; but, arguably, Visage and the New Romantics represented zombified Glam, rediscovered by the younger siblings of 70s Bolan fans. Soft Cell, by contrast, injected a sense of sleaze and subversion into mainstream pop (knocking them cold in black and gold). "Martin" should have been the song choice here: a darker soundtrack to unsettle the old punks huddling around the output of Central St Martin's students.
Cabaret Voltaire's Lyceum show is represented by a cassette tape. You can hear it on Spotify now, and Mal has the institutional respectability of a tenured academic, while Chris Watson is at home on the BBC. At the time, however, this was the sound of Britain's decayed, post-industrial cityscape. With Brexit and twelve years of Tory government, the country is rapidly reviving the sense of anxiety and frustration that inspired bands like the Cabs.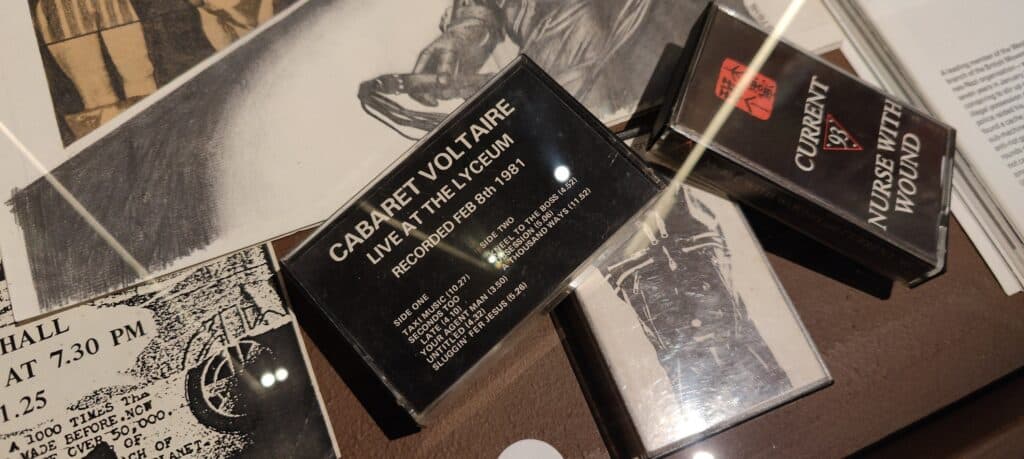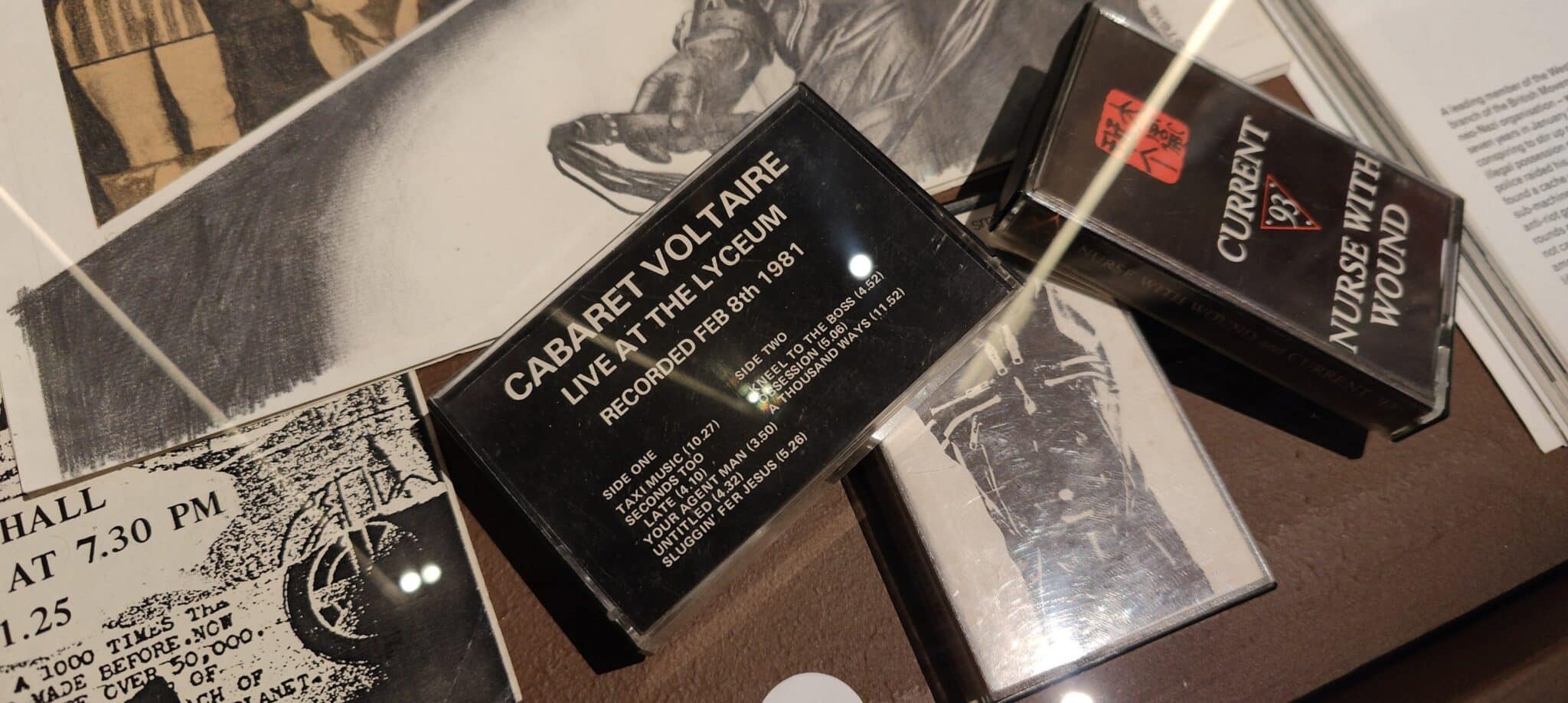 A framed copy of "TVOD/Warm Leatherette" is nestled alongside books by J.G. Ballard, which helped to inspire Daniel Miller. Car crash eroticism might be due for a revival.
Last Few Days, the experimental band that included 23 Skidoo's Fritz Catlin and introduced Laibach to the megaphone, are prominently represented through posters and less conspicuously by polaroids. The posters provide a post box at Throbbing Gristle's studio address, which probably won't reach the band now that London Fields has been gentrified.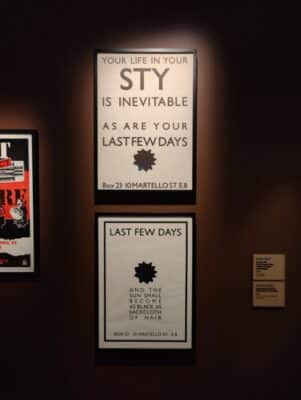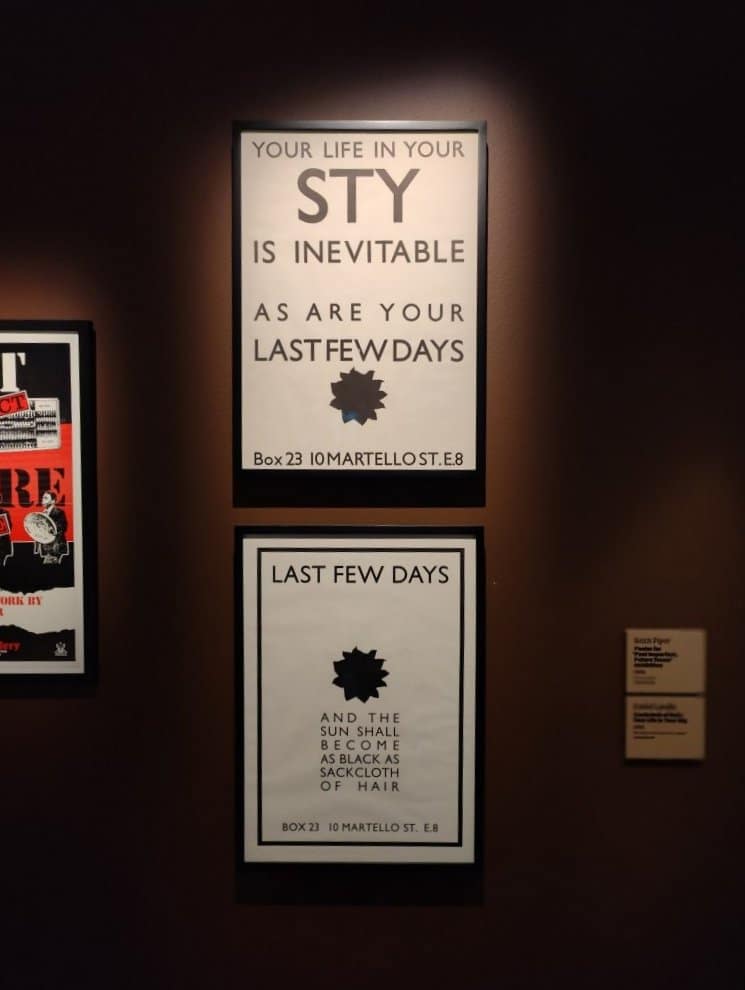 The exhibition is tied together and given an identity by the typographic contributions of the Barnbrook studios. Contrasted with the sleek, corporate patterns of the institutions and corporations that line the Embankment are combinations of type and signs that have been chewed and chopped into grotesque combinations.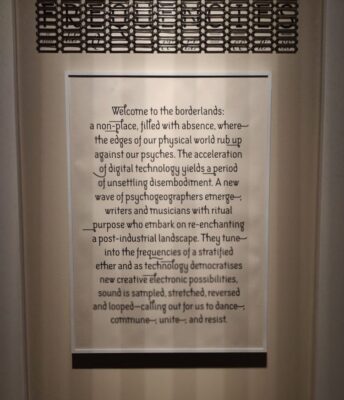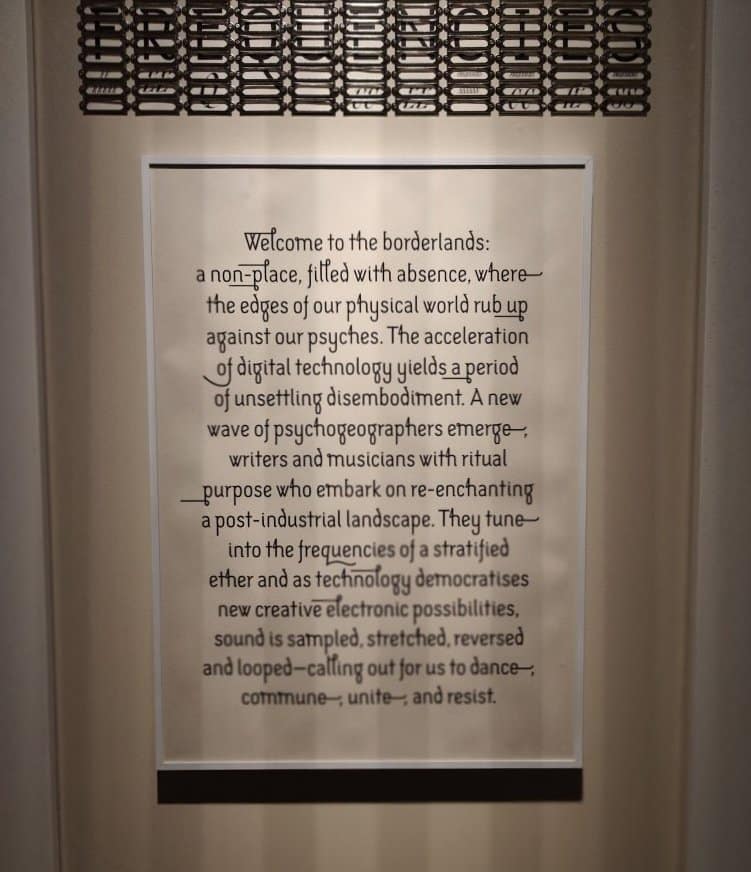 The scariest thing in the exhibition is a puppet of Margaret Thatcher. Continuously channeled by the superannuated members of the Tory party, as a ghostly incarnation of the police state, her gruesome face looks on with a fixed expression at the decline and rot of modern Britain. It is a state made in her image.