At the end of April 2014, a series of mini-festivals were organised in Norway and Sweden, showcasing some of the most exciting electronic music acts from the 1980s and today. Cold War Night Life took in the Swedish shows and came back with bags of salt licorice and memories of unmissable performances.
RATIONAL YOUTH
Malmö, 30 April 2014
Gothenburg, 2 May 2014
Stockholm, 3 May 2014
Caught between two superpowers, Canada was the right place for an album called Cold War Night Life in 1982. Though recorded in Montreal, the atmosphere of Rational Youth's debut was distinctly European: basslines and leads echoed the sounds coming from Dusseldorf, Liverpool and London, while the lyrics evoked the shadows and fog of divided Berlin and Gdansk. As troops stared at each from opposite sides of no-man's land, Tracy Howe and Bill Vorn absorbed the tension and cynicism of the times, filtered it through a construction kit of analogue synthesizers and sequencers, and produced a world-class collection of songs on themes of love, alienation, glamour and paranoia.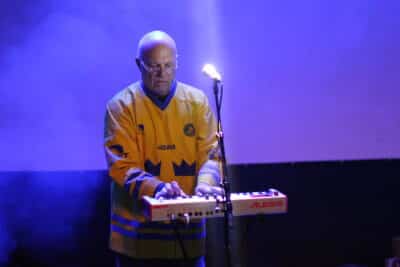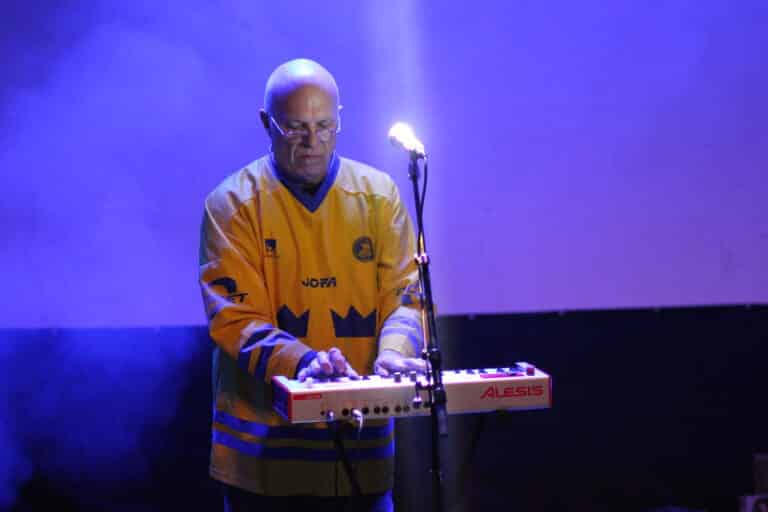 Cold War Night Life became one of the defining electronic albums of the early 1980s, comfortably sitting alongside John Foxx's Metamatic, Kraftwerk's Computer World and Fad Gadget's Under the Flag. Released on an independent Canadian label, its commercial reach was limited, but over the years the record became a cult favourite among the synthescenti. A copy found its way to neutral Sweden and C90 duplicates began to circulate throughout the country's burgeoning electronic music scene. In this case, home taping didn't kill music; it built a base of fans for whom Rational Youth issued distant signals on wavelengths tuned to the alternative dancefloor.
It was only at the turn of the last century that Rational Youth finally bridged the physical distance between them and their Swedish fans, playing selected dates with local synthpop heroes like Elegant Machinery and contemporaries like Robert Marlow. The warmth of their reception on these occasions stayed with singer Tracy Howe, and a return to the Nordics was organised to coincide with the release of a box set on the German artisan label, Vinyl-on-Demand, and new vinyl editions of the last studio album, To the Goddess Electricity.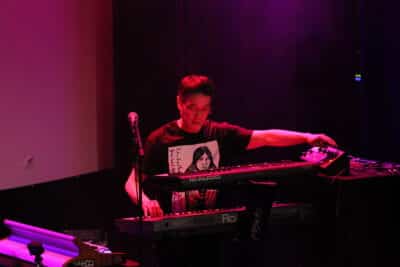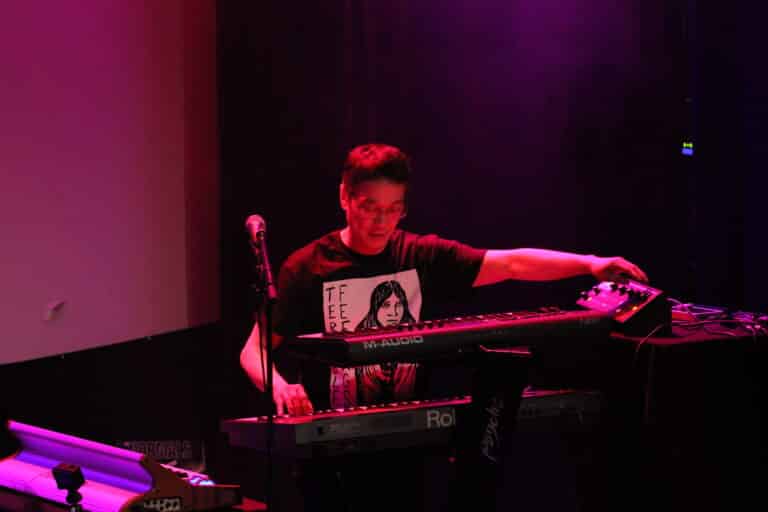 The original plan was to transport a six-piece pop combo from Canada for a mini-tour of Sweden and Norway, but logistical considerations trimmed the act down to the essential duo of Howe and original keyboardist Kevin Komoda. Not a problem: fans were more than happy to receive them for a purely electronic show. Armed with a Moog Little Phatty and Roland JX-8P, Komoda was able to recreate classic sounds while confidently adding runs and fills that lifted the atmosphere higher than the International Space Station.
For Rational Youth, the shows were about revisiting familiar songs and old friends. In Malmö, Howe sported a personalised version of the jersey of Sweden's national hockey team – a gift from S.P.O.C.K's singer on a previous tour – while diplomatically avoiding mention of the Olympic games final. At the same show, Howe paid tribute to the Swedish scene's finest songwriter, Eddie Bengtsson, performing an English-language version of "Luft" by Sista mannen på jorden. Joined on-stage by Bengtsson, Howe was visibly moved by the beauty of the music and their reunion.
Rational Youth's sets on each date were dominated by tracks from Cold War Night Life, such as "Ring the Bells" and "Beware the Fly". The songs have lost none of their vitality in the three decades since they were recorded, and the tug-of-war over Ukraine by empire-builders provided them with a familiar geopolitical back-drop. Tracks from later releases, including "The Man in Grey" from their eponymous EP on a major label and "Pink Pills, Orange Pills" from To the Goddess Electricity, were warmly received. The loudest cheers were reserved for "Saturdays in Silesia" and "City of Night" – both up-tempo, sequenced singles fondly remembered from the days when superpower submarines prowled Sweden's archipelago.
A surprise show-closer in Malmö and Stockholm was a cover of AC/DC's "Thunderstruck," including Angus-like hopping. Firmly tongue-in-cheek, it was a playful riposte to the scene's purists. Like many of the electronic pioneers, Howe was a punk who found his way to synthesizers (he still plays drums with his old band, The Normals), and he clearly couldn't resist breaking down walls. It was also a coded signal that he hasn't given up on adding drums and guitars to Rational Youth's live act. A return to Europe is a real prospect, as is an expanded line-up with a new take on the band's classic songs. The purists will secretly love it.
PSYCHE
Malmö, 30 April 2014
Gothenburg, 2 May 2014
Stockholm, 3 May 2014
Legendary Canadian exports, Psyche, have been pioneers on the dark electro scene for almost three decades. Informed by the hard electronics of early Fad Gadget and the Gothic imagery of post-punk artists like Joy Division and Bauhaus, Psyche launched in 1982 but first came to wider attention with 1985's Insomnia Theatre, an album of horror-inspired classics with titles like "The Brain Collapses" and "Mr. Eyeball Ooze." In due course, Europe called and Psyche were transplanted to Germany, from where they have continued to release edgy music born in the depths of the night and build their reputation as an outstanding live act.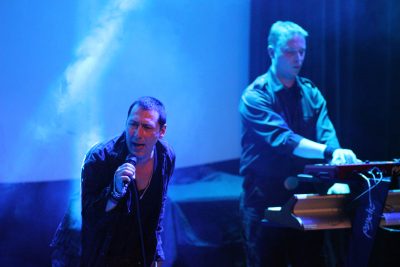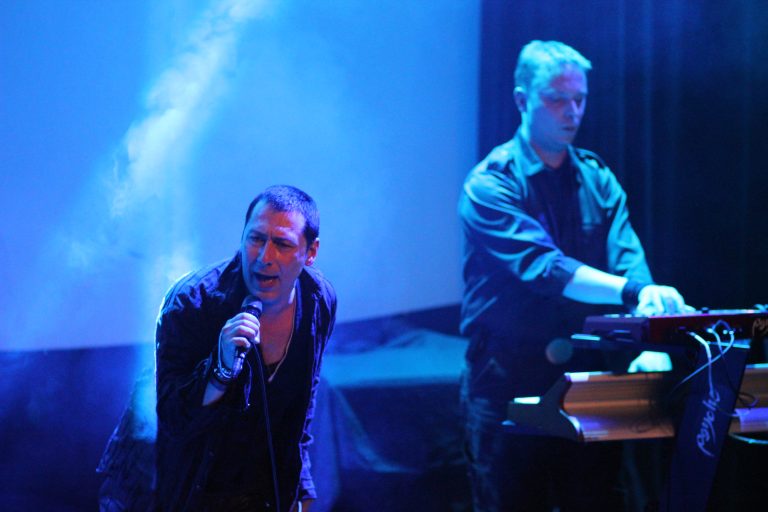 Psyche's Swedish shows opened with the hard-edged stomp of "The Saint Became a Lush" from 1986's Unveiling the Secret. There were hints of "Tubular Bells" in the sequencer pattern; but, instead of Max von Sydow in a dog-collar, the fog gave way to singer Darrin Huss, occupying the stage with a vigorous dance routine, and keyboardist Stefan Rabura. What followed was a selection of hits from Psyche's extensive back-catalogue, covering a range of styles while maintaining the dialectic between the morbid and uplifting. Songs like "15 Minutes", "Sanctuary" and "The Crawler" easily got the appreciative crowd making noise: in Gothenburg, Huss told the boisterous audience, "I'm singing to the rhythm of your screams!"
Huss' vocal range is impressive, and he is capable of bluesy belters as well as more delicate interpretations. On "Goodbye Horses," one of Psyche's signature covers, Huss successfully conveyed the song's careful balance of pain and splendour, while Rabura's accompaniment underlined its emotional ambiguity. The full power of Huss' voice really came out on "Unveiling the Secret," their 1986 hit, showing exactly how Psyche became a lasting presence on the dark electro scene.
A treat for Gothenburg fans was the appearance of Gothic personality, Adora BatBrat – who was on DJ duties for the event – for a cover of Soft Cell's "Sex Dwarf." The Swedish singer and model brought her entertaining brands of glamour and humour to the song – a main-stay of Psyche's live shows – while acting as a foil for Huss' own improvisation. Like the public service announcements used to say, "Sometimes the after-effects never wear off."
SISTA MANNEN PÅ JORDEN
Malmö, 30 April 2014
Gothenburg, 2 May 2014
Stockholm, 3 May 2014
Eddie Bengtsson nearly gave away one of his best songs to his old band, S.P.O.C.K. When they turned down "Stadens alla ljus" (EN: "City Lights"), he recorded it for his own project, Sista mannen på jorden (EN: The Last Man on Earth). Released in time for Swedish shows alongside Rational Youth, it is a fusion of space disco, with a pulsating, filtered bass and classic sweeps, together with a melody line that Jean-Michel Jarre would die for. S.P.O.C.K probably knew their limitations: given a live outing, "Stadens alla ljus" fits smoothly into the SMPJ canon, sending hips and feet into motion with a sleek style more Studio 54 than old-time S.P.O.C.K-and-roll.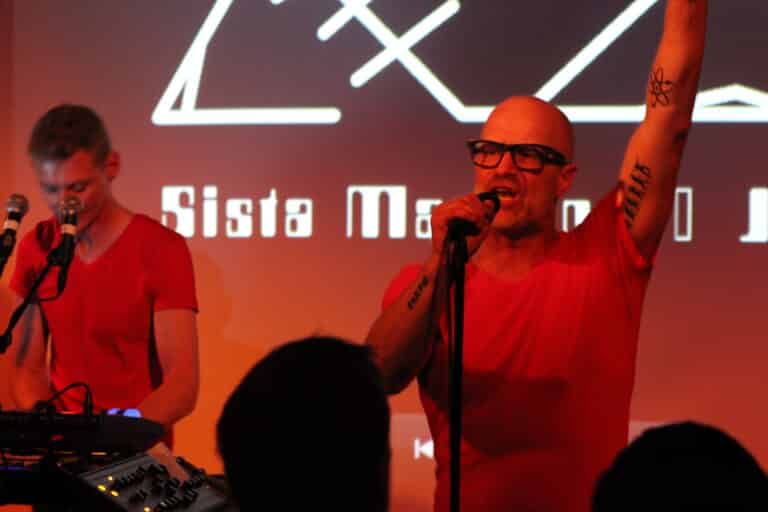 Bengtsson has an informal rapport with fans, who push to the front of the stage to sing along to "Sekunder" (EN: "Seconds"), "Allt är klart" (EN: "Everything is Ready") and other SMPJ classics. Flanked by Christer Hermodsson, he knocks out energetic poptronica gems with an ease that belies their sophistication. For sheer elegance, songs like "Luft" (EN: "Breath") and "Det där är grönt" (EN: "That is Green") are without peers in modern electronic music. The crowds in Malmö, Gothenburg and Stockholm know this, and the bartenders at the venues are left in relative peace for the duration of SMPJ's sets.
A SMPJ live show is an interactive affair; and, as the lyrics are all in Swedish, the audience easily sings along at Bengtsson's prompting. You don't need to speak a word of the language, however, to enjoy the throbbing basslines and clever melodic poptronica: a pair of dancing shoes will do the job perfectly.
I SATELLITE
Malmö, 30 April 2014
Gothenburg, 2 May 2014
Stockholm, 3 May 2014
The first single Rod MacQuarrie ever bought was Gary Numan's classic, "Cars." On the B-side of the US release was "Metal," one of the cover songs that is a highlight of I Satellite's Nordic shows. MacQuarrie, who grew up in a remote part of Canada but now lives in Kalamazoo, Michigan, clearly absorbed Numan's futurist vibe deeply, as I Satellite travels with a vintage Korg System 700 synthesizer and an analogue sequencer the size of a small house. Turning out catchy songs that deconstruct city living and the love lives of replicants, I Satellite was a popular discovery for Nordic audiences who grew up with The Pleasure Principle and Telekon on their built-in IKEA record shelves.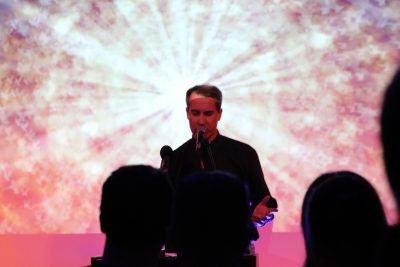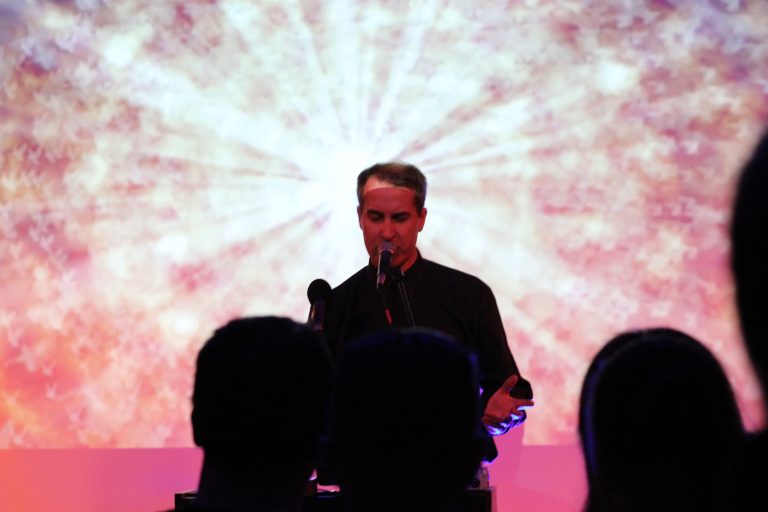 MacQuarrie's show isn't all robotic longing: audience favourite, "Bubbleboy," taken from 2003's Auto:Matic album, explains the fate of a boy "alone in a bubble world," superimposed over a sonic palette lifted from 1979. The I Satellite originals on display are both quirky and catchy, and after the shows groups of young men press forward to ask questions and seek signatures. Who knew in Södermalm that Kalamazoo was hiding such an interesting act?
ROBERT MARLOW
Stockholm, 3 May 2014
Robert Marlow could have been a contender. While his Basildon contemporaries saw their careers take off with Depeche Mode and Yazoo, Marlow narrowly missed out on stardom. On paper, a label deal and production help from Vince Clarke should have been the ideal platform; instead, he was Andrew Ridgeley in the shadow of the talent he stood closest to. Sales of his singles were slow, and an album recorded with Clarke and Eric Radcliffe was shelved until the end of the 1990s.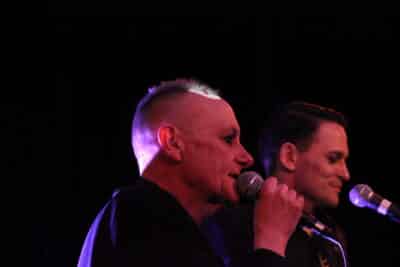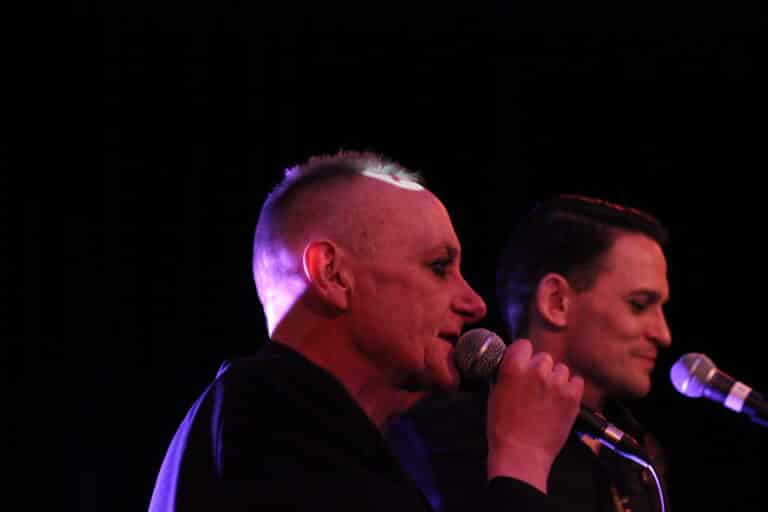 Never mind – the crowd at Stockholm's Nalen venue knows all of the words to the 1980s singles: Claudette, The Face of Dorian Grey and Calling All Destroyers. They sing along contentedly, while Robert Enforsen, the former Elegent Machinery vocalist, handles iPad and keyboard duties and adds harmonies. Marlow's voice holds up, but the years have clearly weathered the lad from Essex.
"Touch me!" cries a heavily made-up Marlow, extending his free hand from the stage. A sea of friendly Swedish hands reach back; and, at least until the music stops, Marlow is the Smash Hits cover star he always wanted to be.