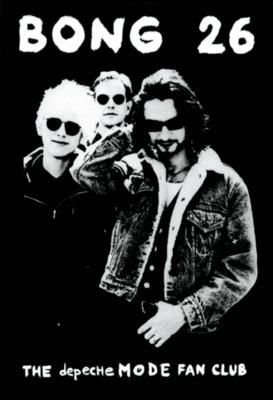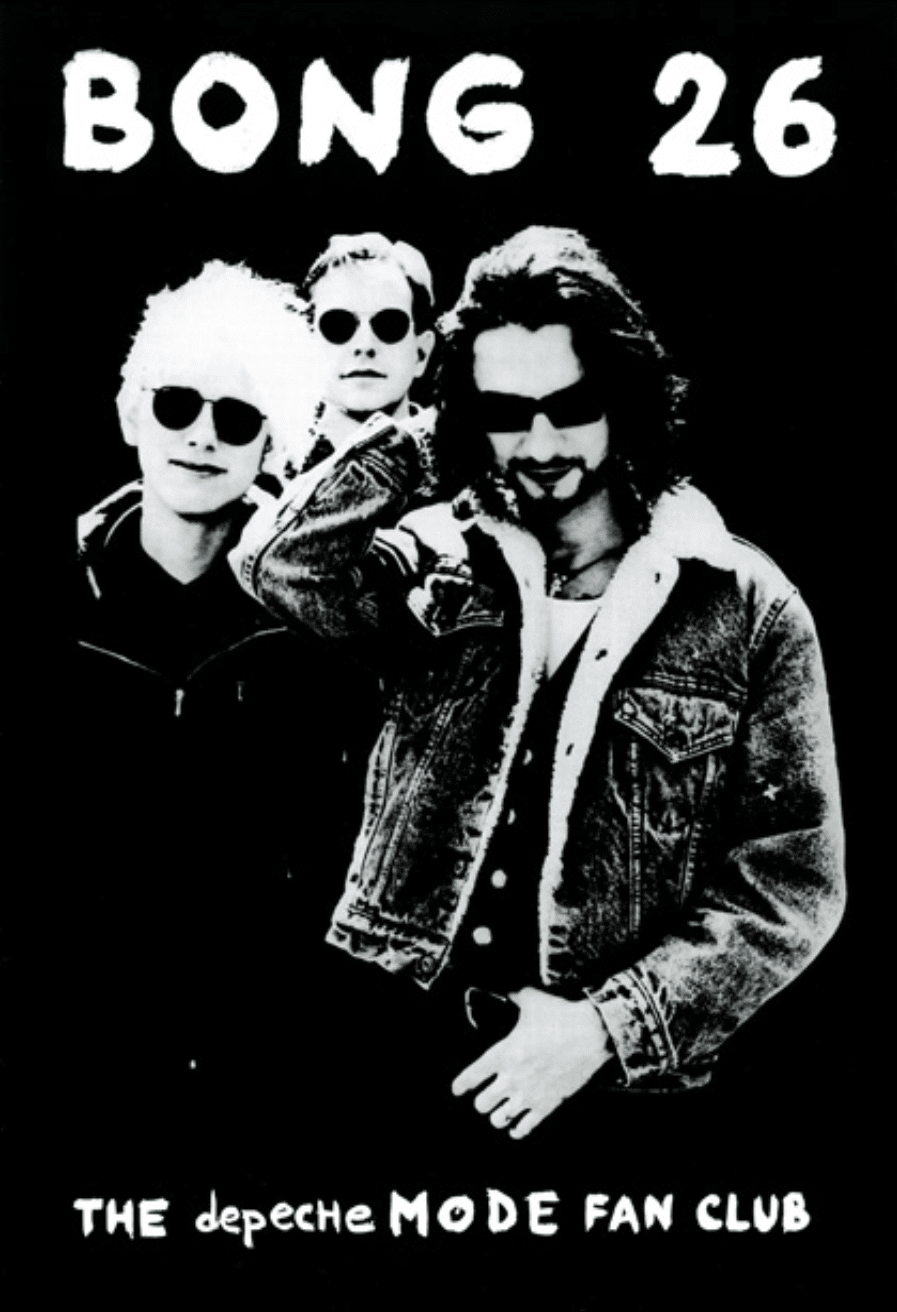 Depeche Mode fans are a special breed. The band might only release albums on a four-year cycle, but this Olympian schedule is synced with gruelling tours that are estimated to earn in the area of $200,000,000. The bulk of that revenue comes from their most hardcore fans, who are devoted to the trio and their songs of pain and suffering in different tempos.
The strength of the commitment and the connection between fans was neatly summed up by Karen Castrischer Stegall on Depeche Mode's Facebook page:
Fans. The Devotees, The Black Swarm. Those are my people! Before the internet, I found a pen pal through an issue of BONG and made my very first DM international friend for life.
BONG was Depeche Mode's official fanzine. Published fifty-two times in its UK edition between 1988 and 2002, BONG provided information on the band's latest exploits. It also featured a section which allowed fans to publish their interest to hear from others by post.
The growth of email and chat groups eventually made the pen pal section of BONG redundant, but for a time it provided a way for devotees to share their love of the band, connect with other fans for tour events and meet-ups, and even fall in love.
We asked three of the fans who took part in the pen pal section of BONG to tell us about their experiences.
---
MERJA OUTALA (Finland)
I remember it was a such a dream world to me to find the DM fan club and get the magazines.
Living in Finland, there was hardly anyone around who was loving DM, too. I have my DJ brother to thank for get to know about DM. He had their music and a lot of similar stuff, like Kraftwerk, Human League and so on. The "Shake the Disease" 7″ I got from him, and I used to play it before going to school. I was totally hooked and started collecting DM.
When I started getting pen pals through BONG and then the DM pen pals site, it was a dream to me and so much fun. I had eventually about forty pen pals, and I think I got to know some Finns there, too.
Mainly, all we wrote about was DM. I had friends from all over the world, and seem to have many bootleg fan club magazines from Japan, etc. We exchanged pics, posters, cassettes and videos of DM – practically everything you can send. People sent me real pics when they met DM and went to concerts. I couldn't because they never came here and I could not go approad at the time. All the letters and envelopes were full of DM pics and drawings.
We used to all have a nickname, depending on whom we loved the most. I was called Gorette
I still have all the cassettes I got from pen pals. I got to know some other bands who played synth music and got their tapes. I remember I once sent a tape with good music like DM, etc., and mixes to someone who worked for Russian radio and they played it. I guess it was harder for them to get music the music then
I got so much: so many friends, and so much more knowledge of DM and similar bands through these pen pals around the world.
It was so much fun, and it was very exciting waiting for letters. Some days, you got many letters. I went to Essex to be an au pair for two months to get to a DM convention in London at Camden Palace in 1990. I also ended up dating, for a while, one of the pen pals. He once won a Dave Gahan look-alike competition at a DM convention. I went once to a DM convention in Birminham with him and his band mates.
Some of the pen pals came very close to me. We have met in real life and found each other again on Facebook.
---
BERNARD VAN ISACKER (Belgium)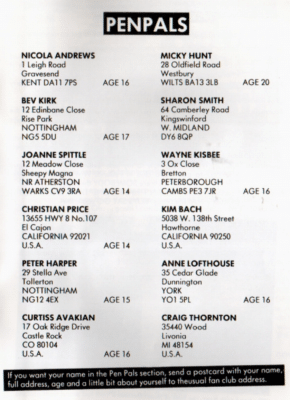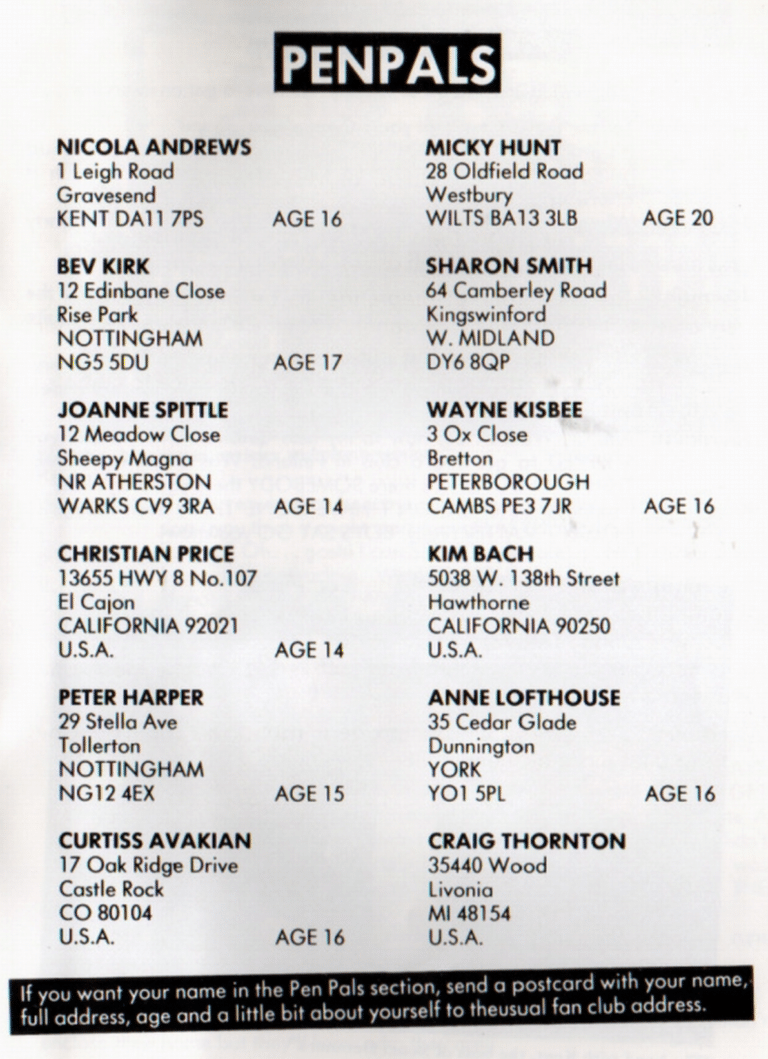 Back in the day, there was simply no internet; or, at least, it looked rudimentary. Look at what the first official Depeche Mode Web site looked like: it was a graphical monsterpiece! Anyhow, BONG magazine offered a good platform to connect with people, so I got in touch with a few via the ad I posted there (which looked quite freakish to be honest – I wouldn't have reacted if I were a reader!). I remember I exchanged lots and lots of cassettes with bootleg material, and I got to know a few more obscure bands – but also Wumpscut, thanks to a German pen pal.
Twenty-seven years later and I'm helming Side-Line magazine and the Alfa Matrix label, and I'm still sporadically in touch with some of these people. Those were damn good times, and it was a pity when BONG stopped – you kinda lost a 'community,' so to speak. Having said that, many readers from back then now turn out to be current contacts and friends of mine these days! The world is full of surprises.
---
LISA SHRED (USA)
The DM fan club has changed over the years. In 1990, I was volunteering at the New Music Seminar in NYC when I asked Daniel Miller, who I met there, if I could start a DM fan magazine myself in the USA, besides the UK BONG. Daniel told me that someone else in the USA had already just started one. I managed to find this person months later, became friends with him, and helped him out with the US issues of BONG magazine from time to time.
We worked on a DM convention in New York together, along with Jo Bailey from the UK, who ran BONG there at the time. We visited the Mute Records office together. Years later, I joined the DM fan forum online at www.depechemode.com, since there were no more paper magazines. I met many local friends on this forum, and we would chat every day online on the Web site about not just Depeche Mode but other things, too. We would meet each other at local Depeche Mode parties in town, where a DJ would play mostly DM all night and we'd dance. We then would meet each other in person when the band was having record signings, or at concerts. This happened for several years, and many of us have remained friends or acquaintances to this day, eighteen years later!
On some tours, we fans would all get together and get a hotel room for after the show, after car-pooling together to an out of town DM show. In fact, one day the band held a private party in NYC after their rehearsal show, and all of us fans who knew each other and who always attended the DM events were allowed in to their private party at a rooftop hotel in NYC. Here we were, drinking champagne with Martin and Fletch, and yet it all started because we met online at depechemode.com. That was also the year I became a Depeche Mode DJ in NYC, and started to have dance parties where I'd play lots of Depeche Mode songs all night myself.
Now, as a DJ, I can attract as many as 600 people per Depeche Mode party. The record company helps us at our events (Sony – and, before that, Warner), and we do the official after-parties for DM on each of their tours. I still see some of the same faces that I saw almost twenty years ago on the dance floor! Although I have become a professional DJ over the years (somehow by accident!), I am and will always be a big Depeche Mode fan.