Anger, as John Lydon once pointed out, is an energy. At least, that was the message in the days before he started shilling for a dairy firm and making travel programmes for cable TV. Now, Lydon eats his crumpets in front of the fire grate and counts his money, as comfortable as the middle class he once set out to offend. Meanwhile, the DIY imagery of punk has become as much of a commodity as the stylised face of Che Guevara – appropriated by admen and repurposed to sell, sell, sell lifestyle products.
If punk can be reimagined and retooled by marketers, then why not by experimental artists armed with arrays of electronic hardware and batteries of VST synths? That's the question now answered by a collective of Swedish musicians, organised under the banner of "Electronically Yours." Page/SMPJ front-man Eddie Bengtsson set them the challenge, following the success of 2012's tribute album, The Seventies Revisited. Their responses are collected on Electronically Up Yours, a compilation of songs from groups and laptop artists of varying notoriety, each tackling a legendary American or British punk classic.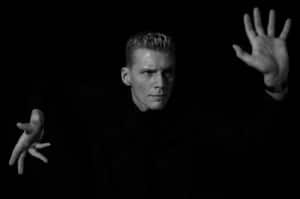 The album kicks off with a curl of the lip from Biomekkanik. "Young Savage," an early Ultravox! track (from their days with John Foxx), hits the sweet spot that Billy Idol missed on his most recent album. Christer Hermodsson is a unique talent, having spent time in S.P.O.C.K and next to Bengtsson in SMPJ. Here, he's in full Biomekkanik mode, putting the cyber into punk with an aggressive attitude.
Some of the songs, like Radio Stars' "Nervous Wreck" and Dickies' "Fan Mail," benefit from an electronic make-over (provided by The Future and Den där killen, respectively); the technology lifting them neatly into the twenty-first century. Others, like Counterfeit's version of XTC's "I'll Set Myself on Fire," go in very different directions from the originals, deconstructing them and teasing out elements that emphasise particular characteristics, like the results of a selective breeding programme. If you thought you knew "God Save the Queen," then Amusik's version will throw you the way that Frazier Chorus' take on "Anarchy in the UK" once did for an earlier generation.
Things really get interesting with Sista mannen på jorden's take on Alternative TV's self-referential "Action Time Vision." Alternative TV were one of the first punk bands to have their eyes caught by synthesizers, and guitarist Alex Ferguson even put out an electronic pop track produced by Daniel Miller (of The Normal and Mute Records fame). Bengtsson's returned the compliment by performing his trick of making synthesizers do the work of guitars, keeping the frenetic energy of the original while infusing it with punktronica stylings.
The American school is represented here by Mr Doonut and Page, tackling classic tracks by The Ramones. Mr Doonut is Håkan Hultberg's nom de musique, and his version of "The KKK Took My Baby Away" is pure poptronica: blips and bleeps replace the sculptured feedback of the original, while arpeggiators blur over the start-stop riffs that were characteristic of the godfathers of punk. Page round off the album with a sleek cover of "Commando," speeding it up and armouring it for the dancefloor.
If anything is missing from Electronically Up Yours, it is the anger that fuelled punk and carried it for 2:01 along a path paved by a single chord. The happy fact is that no one is going to gob at the vocalists of the EY acts to show appreciation, nor pour beer over their keyboards to demonstrate their contempt for Tangerine Dream. Parents aren't going to fret about the influence of this CD on their teenagers, nor take knitting needles to it to assert their authority. This is middle class rebellion in the twenty-first century, from IT team leaders and educators who like butter on their crumpets just as much as Johnny Rotten, and it's quite lovely.
The full track listing is set out below:
1. Biomekkanik – Young Savage (Ultravox!)
2. 12th House – No More Heroes (The Stranglers)
3. The Future – Nervous Wreck (Radio Stars)
4. Counterfeit – I'll Set Myself On Fire (XTC)
5. Sista mannen på jorden – Action Time Vision (Alternative TV)
6. Den där killen – Fan Mail (Dickies)
7. Clark Gable – Ready Steady Go (Generation X)
8. Compute – Hong Kong Garden (Siouxsie & the Banshees)
9. Arachnophobias – London Girls (The Vibrators)
10. Steelberry Clones – Watching the Detectives (Elvis Costello & The Attractions)
11. Amusik – God Save the Queen (The Sex Pistols)
12. Dvala – Problem Child (The Damned)
13. Angaudlinn – Just Thirteen (The Lurkers)
14. AlphaKenny-1 – Ever Fallen in Love (The Buzzcocks)
15. 319T – Don't Push Me Around (The Zeros)
16. DJ Man-Machine feat Sleezy – Gary Gilmore's Eyes (The Adverts)
17. Mr Doonut – The KKK Took My Baby Away (The Ramones)
18. Independent State – Borstal Breakout (Sham 69)
19. Page – Commando (The Ramones)